Aegean Quake Shakes Buildings in Greece and Turkey, 1 Dead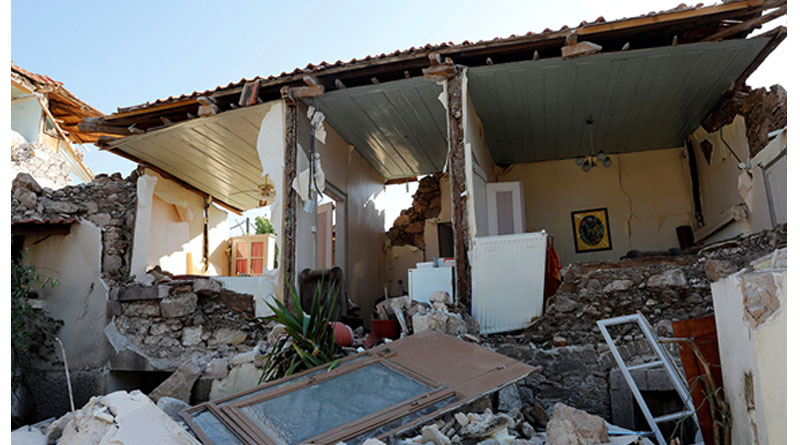 Image Caption: A damaged house is seen at the village of Vrissa on the Greek island of Lesbos, Greece, after a strong earthquake shook the eastern Aegean, June 12, 2017. Giorgos Moutafis, Reuters
ISTANBUL/ATHENS – A powerful 6.3 magnitude earthquake struck the western coast of Turkey and the Greek island of Lesbos on Monday, killing one woman and rattling buildings from the Aegean Turkish province of Izmir to the Greek capital Athens.
The epicentre of the quake was about 84 km (52 miles) northwest of the Turkish coastal city of Izmir and 15 km south of Lesbos, the European-Mediterranean Seismological Centre (EMSC) said on its website. The National Observatory of Athens put it slightly lower at 6.1.
Extensive damage was reported at a village on Lesbos, which was at the forefront of a migration crisis two years ago when hundreds of thousands of war refugees landed there seeking a gateway into Europe.
TV footage showed collapsed buildings and debris blocking narrow streets at Vrisa, a community of around 600 people to the south of the island.
"Tens of buildings have collapsed and roads are blocked off," said Marios Apostolides, the divisional commander of the fire brigade.
A woman, believed to be about 60, was crushed by the roof of her home and died, the island's mayor said. Local officials said at least 10 people were injured.
The quake was felt as far away as Athens, some 367 km (228 miles) southwest of the island.
Major geological fault lines cross the region and small earthquakes are common, though anything higher than 5.5 is rare. Anything exceeding that is capable of causing extensive damage.
"The trembling was really bad. Everything in my clinic started shaking wildly, we all ran outside with the patients," said Didem Eris, a 50-year-old dentist in Izmir's Karsiyaka district. "We are very used to earthquakes as people of Izmir but this one was different. I thought to myself that this time we were going to die."
Social media users who said they were in western Turkey reported a strong and sustained tremor.
"We will be seeing the aftershocks of this in the coming hours, days and weeks," said Haluk Ozener, head of Turkey's Kandilli Observatory, adding that the aftershocks could have magnitudes of up to 5.5.
More than 600 people died in October 2011 in Turkey's eastern province of Van after a quake of 7.2 magnitude and powerful aftershocks. In 1999, two massive earthquakes killed about 20,000 people in the densely populated northwest of the country. A 5.9 magnitude quake in 1999 killed 143 people in Greece.
(Source: ABS-CBN.com)