Aid for Syria Waits on Turkish Border as Warring Sides Bicker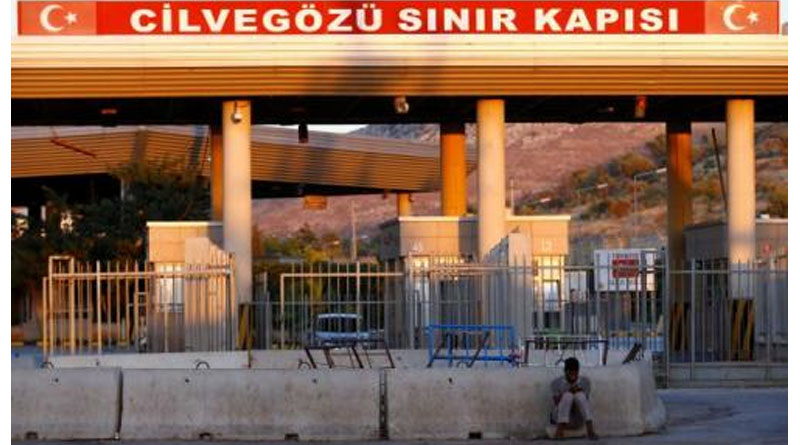 Image Caption: A man sits in front of the Turkish Cilvegozu border gate, located opposite the Syrian commercial crossing point Bab al-Hawa, in Reyhanli, Hatay province, Turkey, September 14, 2016. REUTERS/Osman Orsal
By: Osman Orsal and John Davison, Reuters
CILVEGOZU, TURKEY/BEIRUT – Two convoys of aid for the Syrian city of Aleppo were waiting in no-man's land on Wednesday after crossing the Turkish border, as disagreements between warring sides and security fears held up deliveries on the third day of a ceasefire.
The convoys, each of around 20 trucks carrying mostly food and flour, entered Syria from the Turkish border town of Cilvegozu, 40 km (25 miles) west of Aleppo, on Tuesday but made it little further than the Turkish customs post.
The delay was a sign of the difficulties facing the ceasefire, brokered by the United States and Russia on Friday and which Washington hopes will revive peace talks aimed at ending Syria's civil war.
Russia will recommend persisting with the ceasefire and is preparing for the Syrian army and rebel fighters to begin a staged withdrawal from an Aleppo road expected to be used for aid deliveries on Thursday, the Russian military said.
The aid is badly needed. The UN estimates that well over half a million people are living under siege in Syria, whose five-year conflict has killed hundreds of thousands and displaced more than 11 million.
On Wednesday, both Moscow and Washington spoke positively about the deal, with the Kremlin saying it raised hopes for a peaceful solution to the crisis and US Secretary of State John Kerry arguing it was a "last chance" to keep Syria together.
However, a prominent opposition politician, George Sabra, said the many violations which marked a previous truce had undermined confidence in this one and it was too early to talk about a resumption of peace talks that were abandoned in April.
Speaking to Reuters, he lamented the lack of mechanisms to enforce the ceasefire and accused the government and its allies of committing minor violations "to impede the other goals of the truce, such as delivering necessary aid to besieged areas".
Violations
The Syrian army has meanwhile accused rebels of numerous violations since the ceasefire took effect on Monday.
The Russian army, in comments carried by Interfax, said there had been 60 such violations, adding that most were the work of Ahrar al-Sham, a hardline Islamist rebel group which Russia says has not accepted the ceasefire.
The international community's first goal is to get aid to Aleppo, the scene of Syria's fiercest fighting in recent months and divided into sectors held by the government and insurgents.
Aided by Russian air power and Shi'ite militias, the Syrian army this month renewed its siege on rebel-held eastern Aleppo, home to at least 250,000 people. Capturing the opposition-held area of Syria's biggest city would be a major boost for President Bashar al-Assad's war effort.
The insurgent campaign around Aleppo has drawn heavily on Islamist groups, including Jabhat Fateh al-Sham (formerly the Nusra Front) and Ahrar al-Sham. Moscow and Washington say mainstream rebels must separate themselves from Jabhat Fateh al-Sham, a former al Qaeda affiliate.
'Ready to go'
"Things are taking longer than we'd hoped," David Swanson, spokesman for the UN Office for the Coordination of Humanitarian Affairs, told Reuters. He said 20 UN trucks were waiting at the border "ready to go".
Disagreements between the warring sides were blocking aid getting into opposition-held eastern Aleppo, Swanson added. "Some groups are looking to gain political mileage out of this, and this is something we need to put aside," he said.
A second UN official said that deliveries to Aleppo had to cross numerous checkpoints operated by both opposition and government forces, and it was still unclear whether the aid could get through safely.
But the opposition's Sabra blamed Damascus, saying the government's insistence on controlling aid was obstructing its delivery to Aleppo under the agreement.
The Syrian government has said it will reject any aid deliveries to the city not coordinated through itself and the United Nations, particularly from Turkey, which has backed the rebels fighting Assad.
The UN says it must get permission for most of its aid deliveries from Damascus. The UN has repeatedly criticized the Syrian government for restricting access, especially to besieged areas, and for removing vital items from convoys.
As a result, most supplies to opposition-held areas are delivered across rebel controlled border points, sidestepping government approval.
That allows them to bring in supplies despite the political constraints, but exposes them to greater danger and still does not address the suffering of those in inaccessible, heavily besieged areas which the UN aims to reach through the truce.
The ceasefire has drastically reduced fighting across the country between Syrian government forces and insurgents. But a similar truce in February gradually broke down and violence escalated sharply, particularly around Aleppo.
The UN special envoy for Syria, Staffan de Mistura, said on Tuesday that the UN was still waiting for Damascus to issue letters authorizing aid deliveries. A Turkish official said no further trucks were expected to cross the border on Wednesday until the situation became clearer.
Swanson said the UN was also ready to deliver aid to "other besieged and hard-to-reach locations … but only once access is possible." (Additional reporting by Tom Miles in Geneva, Yesim Dikmen in Istanbul, Ellen Francis and Lisa Barrington in Beirut and Denis Pinchuk in Moscow)
(Source: InterAksyon.com)