Very Few Customers at Immigration HQ On Eve of Day Without Service Centres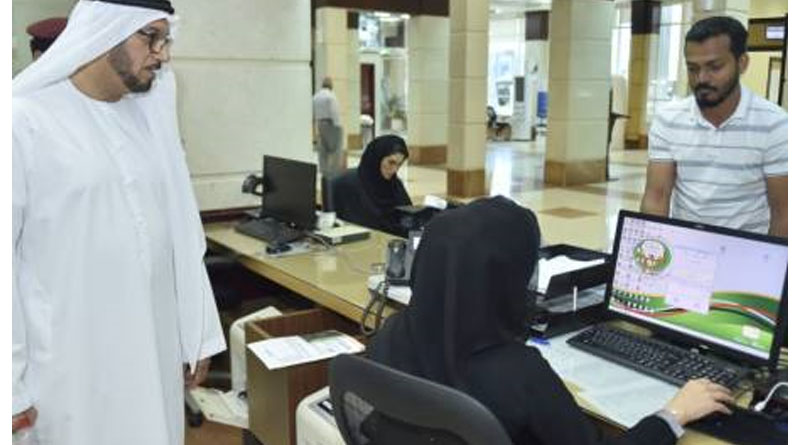 Image Credit: Clint Egbert/Gulf News
Maj-Gen Mohammad Al Merri at the headquarters of GDRFA Dubai yesterday. Transactions provided by government entities in Dubai will be available only via smart channels today.
Directorate now completing 30,000 transactions per day as customers have started using smart channels
Dubai: Twenty-four hours before implementing A Day Without Service Centres initiative, the General Directorate of Residency and Foreigners Affairs' (GDRFA) Dubai headquarters looked deserted with very few customers finishing their transactions, thanks to smart online services.
Transactions provided by government entities in Dubai will be available only via smart channels on Thursday to encourage customers to use smart channels to pay fees and other services.
His Highness Shaikh Mohammad Bin Rashid Al Maktoum, Vice-President and Prime Minister of the UAE and Ruler of Dubai, approved the initiative earlier last month.
When Gulf News visited GDRFA-Dubai headquarters, the day before the initiative, there were only a few customers as online services had reduced the footfall as more and more people were using smart devices to complete their transactions with the GDRFA.
"The GDRFA-Dubai shaped the future and backed the idea of having less customers in their offices and branches," Major-General Mohammad Ahmad Al Merri, director-general of GDRFA-Dubai, told Gulf News. "We worked closely to adopt the latest technologies to provide services in a smart way. The Day Without Service Centres is a positive initiative and we will back it 100 per cent."
He said completing transactions via smart channels helps customers save time, effort and money by avoiding use of private or public means of transport, cutting back on crowding roads and service centres, and this in turn rationalises fuel consumption, reduces carbon emissions and preserves environmental resources.
"The switch to greater online transactions for visas and residency-related documents has created a quicker and more efficient experience for users," Maj-Gen Al Merri added.
"We aim to have zero customers in our departments. We reduced the number of customers [visiting in person] so far by 90 per cent. We only have tens of people visiting our headquarters for special cases. Customers can manage their applications round the clock, anywhere, by using their phones or tablets," Maj-Gen Al Merri said.
Customers who visit GDRFA-Dubai headquarters and other branches will be guided to smart tablets to complete their transactions online without the need to wait in queues.
Major Khalid Bin Mediya Al Falasi, assistant general director of Smart Services in GDRFA-Dubai, told Gulf News that they are ready for the initiative.
"We already communicating with our customers through our smart services. We will have smart tablets and laptops on tables on the day of the initiative to urge people to use them. It is a chance to educate more people on the use of smart services," Major Al Falasi said.
Official statistics of the GDRFA-Dubai showed that everyday, they complete nearly 30,000 transactions (entry and residency permits) online.
Employees are seen sitting behind their computers finishing the job without the need to speak with the customer face to face. A female employee said that she finished about 356 transactions per day.
"In the past, the building was crowded and each employee could complete only up to 70 transactions per day because they spent time talking with customers. Now, things have changed in GDRFA-Dubai and customers don't need to be physically present on the premises. They can make their transactions online anytime," Maj-Gen Al Merri added.
The smart services help customers submit their applications and follow up conveniently and quickly without security or privacy being compromised. The reduction in the number of customers visiting GDRFA offices came after most of the companies in Dubai registered with the smart system and applied for visas for their employees online.
The department has started coordinating with all government entities in Dubai to implement the initiative to close service centres across the emirate for a day on October 26. However, those transactions that require presence in person at the service centres will continue as usual.
This comes as part of the vital role the Dubai Department of Finance plays as an established central entity concerned with collecting public revenues for Dubai Government.
(Source: GulfNews.com)