Difficult Now for Illegal Pilgrims to Enter Makkah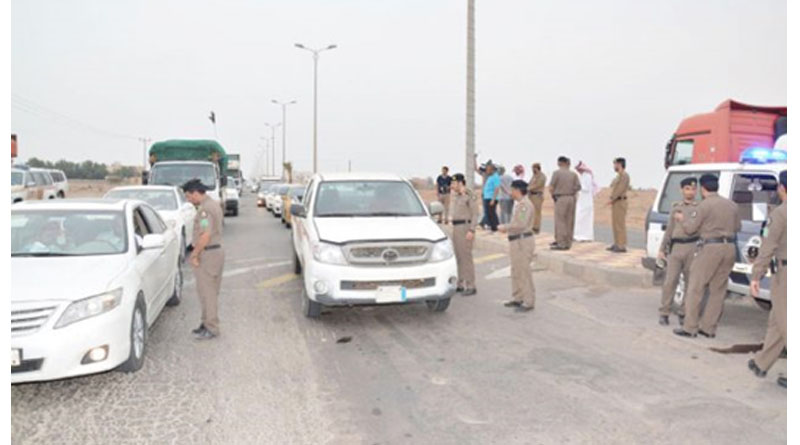 Image Caption: Director of Asir Police inspecting vehicles on a road leading to Makkah. — SPA
By Ibrahim Alawi, Abdul Rahman Bawazir & Abdul Kareem Al-Dhiyabi
MAKKAH/JEDDAH/TAIF – Intense security checks at the entry points to Makkah have prevented people without Haj permits from entering the holy city and the Holy Sites.
The main stations of private taxis that take people without Haj permits to Makkah have been found deserted.
Security patrols have been combing 60 roads and desert ways that private taxis take to transport undocumented pilgrims to Makkah and the Holy Sites.
A field survey conducted by Okaz/Saudi Gazette in Jeddah and Taif found intense presence of security patrols at Kilo 10 and near SAPTCO bus stand in Jeddah, two main stations of taxis that smuggle illegal pilgrims.
Police began its campaign on Shawwal 25.
About 1,200 officers have been deployed in Baheeta and Hada stations to stop illegal pilgrims, who cause a lot of problems for the Kingdom's Haj managers and upset their Haj plans.
Security measures would continue until the first day of Eid Al-Adha to prevent illegals from entering Makkah and the Holy Sites, said Brig. Mohammed Al-Harthi, commander of Haj force in Baheeta and Hada and Taif police director.
"We'll not allow anybody without Haj permits to cross checkpoints until Dhul Hijjah 10 afternoon," he said, adding that police have closed two offices in Taif for issuing fake Haj permits.
Security sources told Okaz/Saudi Gazette that illegal pilgrims are often taken to the Holy Sites through dangerous roads, crossing Hada mountains. Security officers have been placed on those mountains to arrest people who wanted to perform Haj without a permit.
"Illegals will not be able to run away when they reach these mountains," said a Saudi who used to smuggle illegal pilgrims to Makkah in the past.
"All rugged roads leading to Makkah and the Holy Sites have been cordoned off by police and volunteers," he added.
The smugglers usually follow two routes. The first route is Jeddah-Jazan coastal road, Umq flyover, non-Muslims detour and Akeeshiya Road, south of Makkah. They will drop illegal pilgrims at a place before reaching the checkpoint and pilgrims will walk across a mountain to catch the same taxi.
The second route is more difficult than the first one. The smuggler uses this route late in the night to avoid checking. They follow the non-Muslims detour to reach Hada and the smuggler will drive through abandoned villages and cattle enclosures to reach Makkah. Every driver give SR200 to shepherds, said a driver who used to transport undocumented pilgrims.
These drivers then arrive at the southern residential districts of Makkah.
Illegal pilgrims will be dropped in that place and told to walk to escape checkpoints.
"Police have intensified their presence on the two routes now and illegals would not be able to escape," he pointed out.
He said drivers would not be able to use old Jeddah-Makkah road to smuggle illegal pilgrims due to the strong presence of security patrols. Smugglers charge between SR500 to SR1,000, depending on the status of the customer's residential permit.
Arabs and Asians are the majority of illegal pilgrims.
(Source: SaudiGazette.com.sa)