Duterte Urged to Seek Mercy, Justice for Mary Jane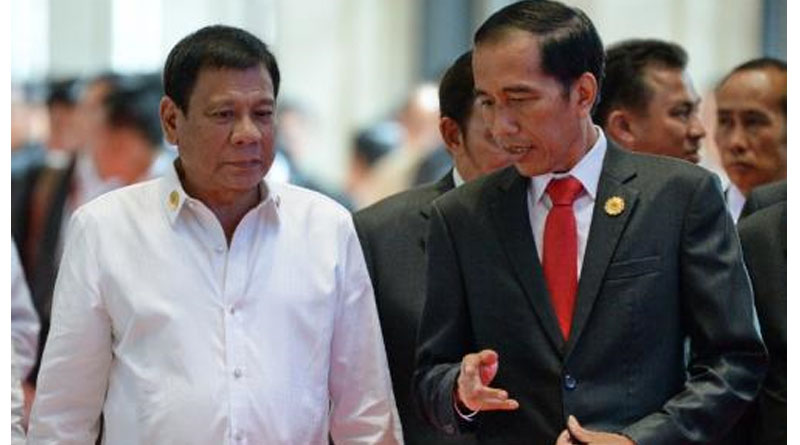 Image Caption: President Rodrigo Duterte and Indonesia's President Joko Widodo chat while heading to a plenary session at the ASEAN summit in Vientiane. (photo by Roslan Rahman, AFP)
MANILA, Philippines — President Rodrigo Duterte has been urged to seek mercy and justice for the Filipina on death row in Indonesia for drug smuggling, and to "bring home Mary Jane already."
Duterte is visiting Indonesia on Thursday and Friday after attending the Association of Southeast Asian Nations summit in Laos.
Earlier, he said he might ask to visit Veloso during his visit.
National Union of People's Lawyers secretary general Edre Olalia, who is helping Mary Jane Veloso and is also helping prosecute the couple accused of tricking her into transporting heroin into Indonesia, said Duterte "is in the best position to take up Mary Jane's cause, for it is only fitting for a leader with such a hard stance on the infectious drug menace to ask compassion for one of its unwitting victims."
Veloso was arrested in April 2010 after the drugs were found in her luggage.
She had been scheduled for execution, along with eight other drug convicts, in April last year but was given a last minute reprieve by Indonesian President Joko Widodo after overseas worker organizations there interceded and Ma. Cristina Sergio and Julius Lacanilao, the couple who allegedly duped Veloso into becoming a drug mule, gave themselves up.
Sergio and Lacanilao are being tried by a Nueva Ecija court on illegal recruitment charges.
"For Mary Jane's family and for us, the President's plea will be a plea not only for mercy but also for justice," Olalia said. "Mary Jane's life and freedom will be the greatest vindication for her toxic sufferings as a victim of human trafficking."
He asked Duterte to "prudently point out" to Widodo "that Mary Jane was exploited by an international drug syndicate for a criminal purpose — of which she had no knowledge ad for which she is being made to pay with her own dear life."
He stressed that under the laws of both countries as well as international law, "Mary Jane in fact deserves protection."
Olalia also said it is important that Veloso "be allowed to forthwith give her comprehensive testimony by deposition or any other means so that she can tell her full story and speak the whole truth."
Widodo has resisted international calls to do away with the death penalty for drug-related offenses.
Duterte, who has ordered an aggressive "war on drugs" that has seen close to 3,000 persons killed in little over two months in office, also wants capital punishment reinstated in the country.
(Source: InterAksyon.com)