Ebola Vaccine Arrives in DR Congo Amid Outbreak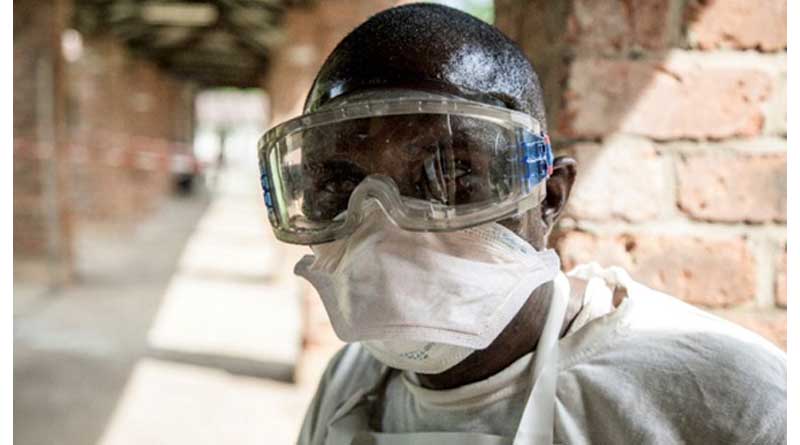 Image Caption: A health worker wears protective equipment as he looks on at Bikoro Hospital — the epicenter of the latest Ebola outbreak in the Democratic Republic of Congo — on May 12, 2018 (AFP Photo/MARK NAFTALIN/MANILA BULLETIN)
By Agence France-Presse
Thousands of doses of Ebola vaccine arrived Wednesday in the Democratic Republic of Congo, which is facing an outbreak of the deadly virus, the health ministry said.
Congolese authorities declared the outbreak in the northwest region near Congo-Brazzaville on May 8, and three have died from the disease, according to an official toll.
The number of reported cases is 42, including two confirmed, according to a World Health Organization tally.
"Five thousand four hundred doses of vaccine arrived from Geneva this morning" said health ministry spokeswoman Jessica Ilunga. They would be kept in Kinshasa until a refrigerated transportation chain could be guaranteed.
The WHO said the risk of the disease spreading was "high" and announced it was preparing for the "worst case scenario".
Chief executive Doctor Tedros Adhanom Ghebreyesus visited the affected Bikoro area last weekend, saying he hoped for a "better way out" of the latest outbreak in DRC.
Oxfam announced Wednesday that it has made available an initial $68,000 (57,000 euros) to fight the spread of the disease.
Ebola is one of the world's most notorious diseases, being both highly infectious and extremely lethal.
The worst-ever Ebola outbreak started in December 2013 in southern Guinea before spreading to neighbouring west African countries Liberia and Sierra Leone, killing more than 11,300 people out of nearly 29,000 registered cases.
(Source: MB.com.ph)