Expatriate Exodus: Saudi Construction Sector Worst Hit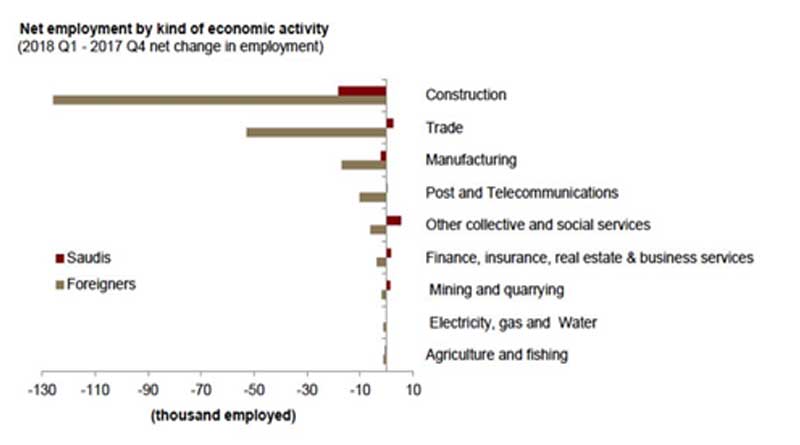 Jeddah — The Saudi construction sector has been the worst hit due to the exodus of expat workers during the first three months of 2018, according to a new labor market report released this month.
"Between Q4 2017 and Q1 2018, about 221,000 foreign workers left the labor market. All sectors saw a drop in the number of foreign workers, with construction losing the biggest number, at about 126,000 foreigners, with 18,000 Saudis leaving the sector in Q1 2018," said Jadwa Investment's latest update on the Saudi labor marker.
Trade, which includes wholesale and retail activities, came second, losing around 53,000 foreign workers.
Citing wage data from the General Organization for Social Insurance (GOSI), the Jadwa update said most of the foreign workers who left the market in Q1 2018 were receiving less than SR1,500 a month on average. These workers were employed in the construction, trade, education, and agriculture sectors.
"Therefore, we can say that the first wave of foreigners leaving the market have been unskilled, low-wage labor, who have been made redundant by their employer due to rising labor costs through the first round of expat levies," said the Jadwa report.
The total number of foreigners in the Saudi labor market declined by around 796,000 since the start of 2017, with about 221,000 leaving the market during Q1 2018.
The number of new expat visas issued for the private sector has significantly declined in recent years, falling from 2 million new visas issued during 2015 down to 718,000 in 2017.
During Q1 2018, the Ministry of Labor and Social Development announced a new wave of Saudization by enforcing 100% Saudi employment in 12 retail sectors by September 2018. However, the ministry recently published a guide titled "Nationalizing retail jobs in 12 sectors", proposing the reduction of Saudization from 100% to 70%, indicating that the original enforcement decision is under review.
During Q1 2018, the labor market saw the implementation of expat levies, which raised expat labor costs, six months after the implementation of expat dependent fees.
There are about 120,000 contracting companies across the Kingdom with a total investment of SR300 billion. They employ more than 4 million workers including Saudis.
(Source: saudigazette.com.sa)