This Fil-Am Academic is an 'OAW' – Overseas American Worker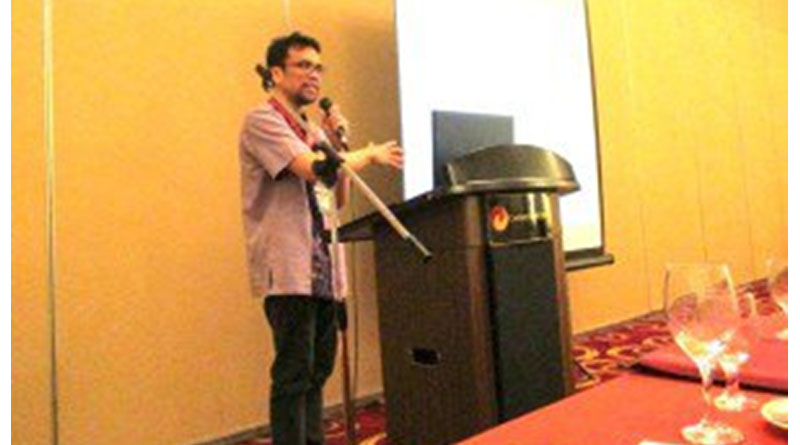 Dr. Edmundo Luna during the 26th SEALS (Southeast Asian Linguistics Society) meeting from May 26-28, 2016 in Manila where he lectured on the Balinese language. CONTRIBUTED
By: Eunice Barbara C. Novio
@inquirerdotnet
INQUIRER.net US Bureau
SAN FRANCISCO — Edmundo C. Luna, 38, has not escaped the reality many Filipinos have faced in order to survive — being an overseas worker. But he's not an OFW; he's an OAW. Due to the competitive market in the US education sector, he has had to seek greener pastures, even if he has a PhD in linguistics from University of California in Santa Barbara.
Luna is an expert in Balinese culture. After a brief teaching stint in Colorado and finishing his doctorate, he went to Muscat, Oman, as a lecturer in the English language program. After a year, he applied for a professorial position in a national university in Jeonnam, South Korea, where has been based for the past six years. 
"The academic job market for positions within the US was extremely limited. Even if there were openings that I thought I would have a chance to secure, there would be at least a hundred other applicants vying for the same positions," Luna explains.
Early interest in cultures
His interest in cultures, particularly Balinese culture, began when he was in third grade. A local graduate student studying at San Diego State University and his Balinese colleague gave a presentation on Balinese culture, complete with films, a demonstration of gamelan music and two masked dances. With this newfound "obsession," he began searching public libraries to find information on Balinese culture.
After four years, Luna met Bapak (father) I Made Lasmawan, a Balinese who was invited to teach in Colorado. Lasmawan taught him to play a majority of the instruments found in a typical gong kebyar ensemble in Bali today as well as Balinese dance, which is necessary if one is to be considered a competent performance artist in Bali. Luna finally had the opportunity to visit Bali and stay with Lasmawan's brother and his family, who lived in remote village along the central mountain ranges of Bali.
While an undergraduate student at UC Berkeley, Luna spent much time learning gamelan music from Central Java. Eventually, his MA thesis and dissertations were focused on Balinese. He was given a grant that allowed him to conduct field research in Bali, particularly in its language. Luna found out the many similarities of Balinese culture and language with the Visayan and Ilocano cultures have common Austronesian roots.
"I may be able to expand my language advocacy efforts, as I am now a board member of the Western Institute for Endangered Language Documentation, a non-profit organization dedicated to the preservation, documentation and advocacy of endangered and threatened languages around the world. In the future, we would like to reach out to speakers of minority (endangered or threatened) languages in the Philippines, of which my mother's native language (Capiznon) would certainly qualify," Luna says. 
Migration as part of life 
Migration is not new to Luna. His parents arrived and settled in the US in 1968. The elder Luna was a serviceman in the US Navy stationed at NAWS China Lake in Ridgecrest, California. The family also stayed in Yokosuka, Japan, where his father was stationed from 1964 until 1968. At the time, bilingualism was not encouraged; hence the Luna siblings were not taught to speak other languages aside from English. Luna says that his mother is a polyglot who knows three Philippine languages as well as English, which influenced him to study linguistics.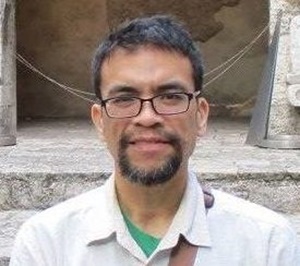 While growing up, Luna was always mistaken as Latino or Spanish because of his name. When he was in the middle school, he strongly identified as Filipino by joining a Filipino dance troupe and gathering materials on traditional performing art forms in the Philippines. This made him identify as half-Ilocano, half-Visayan/Capiznon. Knowing his roots at an early age, he has had this "bizarre feeling" trying to negotiate both American and Filipino identities.
"The way in which I communicate is undoubtedly American – and yet the way that I negotiate my social interactions is more SE Asian/Filipino. If the people are not Filipinos, then I put on my more "American" persona," he says.
Luna says that being an American migrant worker has certain advantages over other migrant workers since English has been a valuable commodity in South Korea for the past 20 years. With his advanced degrees he can easily secure a teaching position higher than the typical English teacher can get. But he has also misgivings because of his inadequate knowledge of the Korean language.
"My professional self-esteem is frequently being tested, as sometimes I feel that my actual role and influence at my job are kept to a bare minimum, which is disheartening since the 'public face' implies that I have a degree of influence appropriate for any staff member at my level," he says. 
Despite his limitations as a migrant worker in South Korea, Luna's love for culture has not diminished. Luna says that English is a commodity only within the educational settings. Knowing the basic language of a certain place is necessary to be able to interact with the community.
His achievements in the linguistic community notwithstanding, Luna says that he must be willing to embrace new work assignments with an open mind and be flexible. All migrant workers must do this to advance, he says.
(Source: Inquirer.net)