Fil-Ams in Orlando, Florida 'go amok'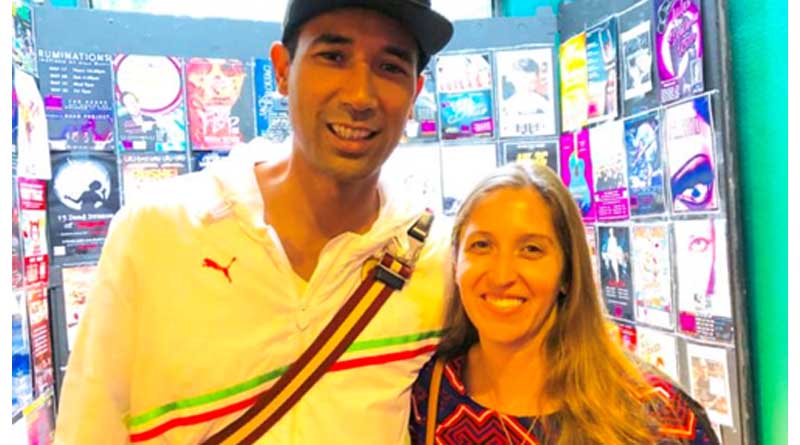 By: Emil Guillermo – @inquirerdotnet
Orlando, Florida is known for the mouse, as in the latter-day mega Mickey, where Disneyland has morphed into DisneyWorld, which is family entertainment in steroids.
But I prefer the city proper, near the downtown, where Orlando is home to the oldest and largest theater festival of its kind in America, the 28thOrlando Fringe Festival.
It's a two-week gathering of more than 100 shows including my "Amok Monologues: All Pucked Up," my comic tale about us, based on my father's story, a colonized Filipino who comes to America without need of green card (he was colonized, remember). He leaves Ilocos Norte, after being educated by the Americans, and arrives by boat to California in 1928; there is just one Filipina per ten Filipinos on the boat, because no one is interested in Filipinos taking root in America.
Their role is simply to be a workforce. And then maybe to go back.
But it's just in time for the Depression, and Filipinos take not only the ten-cent an hour jobs in the fields, but also the ten-cent a dance women. White women.
There's still time to catch the last two shows on May 24 and May 25.
Already, my one-man show has achieved one of its goals—to share my story with some young American Filipinos.
Orlando is a modern Asian American city in that it is primarily Indian (27 percent) and Vietnamese (20.59 percent). The traditional group leaders, Chinese (18.65 percent) and Filipino (14.2 percent) have been usurped.
But a handful of proud American-born Flipinos turned out for my show.
Like Winston Taitt, a young 39-year-old Orlando attorney, who oddly has the same first name as my best friend ever. But my friend Winston was Peruvian and Chinese, and only looked Filipino. He wasn't like Winston Taitt's modern mix, of African American (his dad) and Filipina (his mom's surname, Cruz De Leon).
He attended the show with his wife, Sarah, a petite white American, the kind woman who would have gotten a Filipino killed in the '20s. She's proud of her husband and to be Filipino by marriage.
"He's too tall to be Filipino everyone says," Sarah said as she looked admiringly at her husband, who stands 6-foot-4-inches. And you guessed it, he is a power in the local Florida Philippine basketball leagues—as a Filipino player.
"We actually had to bring his mother to a game to verify that he was Filipino," she said.
Winston's mother arrived in 1971 from Paranaque, Metro Manila, and her family doesn't have a history in America that goes back to 1928 like me.
Sarah herself has been to the Philippines and loves it. She mentions Palawan. "It's more than beaches," she said. "It's paradise."
So, when she picked what shows to see at the Fringe, naturally, she was drawn to "Amok Monologues."
It was a good choice for Winston, too.
"I liked the show," Winston Taitt said. "I didn't know as much about the history, so that was really good to find out about that."
Sarah Taitt was even more effusive. "I loved the show. I thought the history was very fascinating because we hear a lot about other immigrant populations, but I've never heard about the Filipino experience."
It was all new history she hadn't heard before, it was news to her.
Another couple at "Amok Monologues" was Joey and Cory Canamo.
"I absolutely loved it. It was very relatable," Canamo, 31, an American-born Filipino who works in Orlando's entertainment industry. "It had moments of comedy. It was very funny. But then there's the history part of it, things I didn't necessarily know. . .like the stories of your dad."
He and his wife, Cory, white and from the Detroit suburbs, met while in college in Florida. She related to my stories of going to a segregated school, and how my white buddies treated me, until our school got its first black kid.
They thought the show was a must-see before taking a family reunion later this year in the. They're even going to bring Joey's mom and dad later in the run.
There were so many Filipinos, I couldn't talk to them all. Some like Sheri Barron know her Filipino parts run deep. She self-identified as a Navy brat in her 30s, the daughter of a corpsman.
Her father was half-Filipino, with a Filipino mother whose last name was Pardillo. Another double-L Filipino. Pardil-yo.
On the distaff side, Barron's mom is from Baguio, and her surname was Virtudazo.
"I'm 75 percent Filipino," said Sheri Barron, who visited the Philippines in 1991, during the eruption of Mount Pinatublo, which gets a mention in my show.
She was so taken by the "Amok Monologues," she returned to see it with friends.
"Fascinating, really fascinating," said her friend, Gayle White, about the show.
Her husband, John Kuntz, chimed in. "I thought it was a good show, it was quite an education for me. You're very animated," Kuntz said with a laugh. "I think it's something that's needed. I know nothing about Filipinos…You're an inspiration."
Sheri Barron agreed. "When you say (in the show about how Filipinos are) invisible, it's still something a Filipino American faces today," Barron said. "It's definitely an inspiration. It gives you things to think about, and how you overcome it and how you think about it, through humor, through storytelling, it's a great way to get our story out there."
Didn't pay them to say anything. Just some honest reactions after the show as we spoke out in the lobby.
Honest reactions to an honest show.
And that's the point of bringing my "Amok Monologues" to the Fringe. We're still fringe after all these years.
If you can't make it to Orlando for shows on May 24 and 25th, invite me to your town, your school, your barangay, your company.
I'll bang my gong and tell you the tale of an American national from Ilocos.
Emil Guillermo is an award-winning journalist and commentator who writes a column from the North American bureau. Listen to his podcasts:http://emilamokstakeout.libsyn.com/and on Apple Podcasts Contact: www.amok.com
(Source: Inquirer.net)