Filipinos Launch Beach Clean Up Campaign in Khobar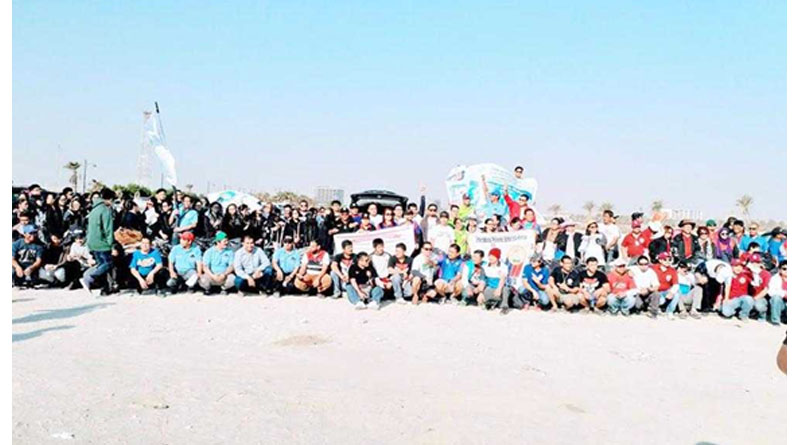 AL-KHOBAR — A clean-up campaign was conducted at the initiative of the Filipino volunteers on Friday to clean up, conserve and save the environment at Al Tahliyah, Al-Khobar near the Desalination Plant.
The Overseas Filipino Workers-Congress of Eastern Province (OFW-Congress EP) headed by Andrew Nathaniel Santos spearheaded the Coastal Clean up mission in collaboration with 25 Filipino community organizations.
The participating groups were CIS, KOR, ACPPI-ME, GBI, IPSA, SI-K, IBCWA, SAFE, AFCSCOM, APO DHAHRAN, RAM DENTAL, APO JUBAIL, BEG-SA, PICPA, PSART, JUBTA, VANGUARD, PGBI, PNA-ERSA, ALFIDASCA, AKHRO, K FITNESS CLUB, NOPTI, IMFIAK and they worked in association with Dr. Khalifa Bin Abdullah Al-Saad, general manager of Environmental Health in the Office of the Mayor of Al Khobar.
The mayor's office not only appreciated this initiative but extended all out support including providing logistics to move the collected garbage. Philippine Overseas Labor Office in the Eastern Region (POLO-ERO) also extended full support to this noble task.
Santos of the OFW-Congress EP said the purpose of the drive was not just to clean the beach and protect the environment from ever increasing global warming but also to generate awareness among youth, families and schoolchildren to protect the environment.
"I am confident that our drive will motivate the Saudis as well as other communities to launch similar drives all over the Kingdom," he said, adding, that all the participating organizations and associations brought their family members as well to make it a social cause.
"We hand-picked one truck of garbage and I know it will make a difference; let's keep our coastal clean, don't throw your trash anywhere. Be responsible, it's our home, our life, our shelter," he said.
The Filipino community in the Eastern Province has always been in the forefront when it comes to environment protection. This year alone several individual organizations in Dammam, Jubail, Qatif and Alkhobar have undertaken more than two dozen drives collecting several hundred tons of garbage. The municipalities of Dammam, Al-Khobar and Jubail have always supported them in their endeavors. — SG
(Source: SaudiGazette.com.sa)