Filipinos to be Repatriated from Hurricane-Hit Caribbean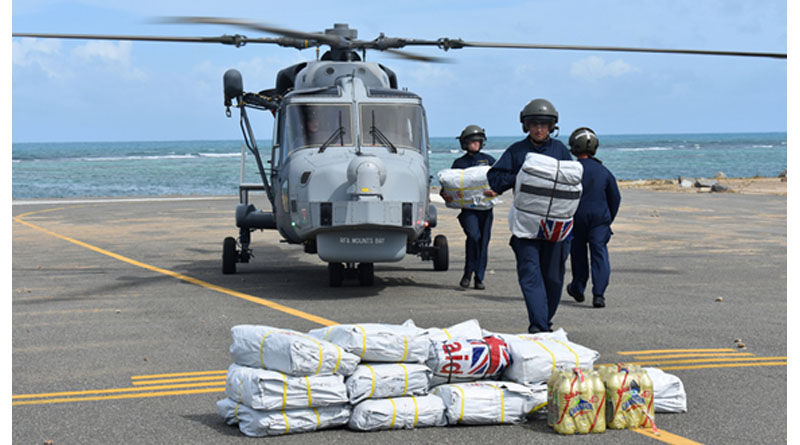 Image Caption: Royal Navy ground crew unload disaster supplies from a Wildcat helicopter at Tortola airport in the British Virgin Islands September 8, 2017. Picture taken September 8, 2017. Royal Navy/MoD/Crown Copyright 2017/Handout via Reuters
MANILA – Dozens of Filipinos who were displaced by Hurricane Irma in the British Virgin Islands will be repatriated, the Philippine Embassy in Washington said Sunday, as the monster storm closed in on Florida after devastating the Caribbean.
"More than 90" of the 264 Filipinos who work in the medical, accounting and construction industries in the British territory asked to be brought home, citing the lack of medicine and essentials, according to the statement.
An embassy team will go to the islands from neighboring Puerto Rico to rescue the Filipinos as soon as possible, said Chargé d'Affaires Patrick A. Chuasoto.
Those who volunteered to be repatriated will be brought directly to the Philippines, the statement said.
A new storm warning was raised in the British Virgin Islands due to Hurricane Jose, a Category 4 storm which was headed towards St. Martin, Barbuda and Anguilla.
Filipinos with relatives in areas affected by the storms were advised to contact the Philippine Embassy in the US through its emergency hotline, +1 (202) 368 2767, email: consular@phembassy-us.org and atn@phembassy-us.org, Facebook facebook.com/philippinesusa and Twitter @philippinesusa.
(Source: ABS-CBN.com)