Filipinos Urged to Honor Heroes by Being 'Good Citizens'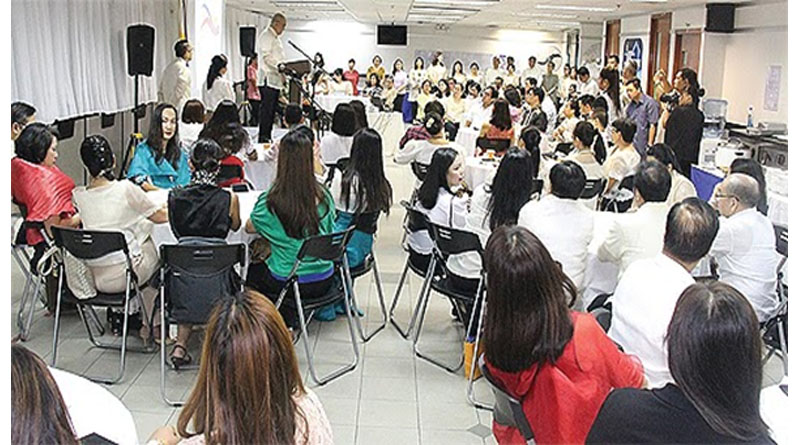 Filipinos who value the sacrifices made by the country's heroes should honor them by being good citizens.
This was the gist of the message sent by President Rodrigo R. Duterte, and was read by Deputy Consul General Roderic Atienza during breakfast held at the Consulate on June 12 to mark the 119th year of the proclamation of Philippine Independence.
Outgoing Consul-General Bernardita Catalla welcomed the 100 or so guests at the gathering by hailing the solid ties between the Philippine and Hong Kong.
She then made a tearful goodbye to members of the community she would soon be leaving behind to take up her new post as the Philippine ambassador to Lebanon.
"Dahil sa inyong walang sawa at walang patid na pagsuporta at pakikiisa sa mga gawain ng Konsulado… naku naman, may tissue pa (laughter) … ay naibigay po naman ang palagay po naming ay yung mga dapat gawin ng isang Konsulado,"she said.
She said she was lucky as it was during her tenure that a Philippine President, Duterte, again visited Hong Kong.
The last presidential visit was by Gloria Macapagal Arroyo, before bilateral ties were marred by the hostage-taking incident at Luneta in 2010.
Also read during the annual gathering was a message from Foreign Secretary Alan Peter Cayetano, who hailed the Filipinos' adherence to freedom and democracy.
In the speech read by Vice Consul Bob Quintin, Cayetano said Duterte's administration continues to fight for "a different type of independence – freedom from poverty, freedom from crime, freedom from illegal drugs, and freedom from corruption."
Labor Secretary Silvestre Bello III, in a message read by Labor Attache Jalilo de la Torre, said June 12 was "a fitting opportunity to pay tribute to the sacrifices of Filipino workers overseas, our modern heroes, as we feted them on Migrant Workers' Day."
Bello said his department is "doing every means possible to realize (Duterte's) vision of of bringing every Filipino worker on foreign soil back to his family by creating an environment that generates decent and adequately remunerated work in the country."
Catalla cited her accomplishments during her three-year tenure, including the signing of memorandums of understanding with various groups that provided free services to Filipino migrant workers.
She also announced plans for the June 25th cultural show at Queen Elizabeth Stadium in Wanchai, which the Consulate will hold in partnership with the Hong Kong government. The show, which is being held in lieu of the traditional Philippine Independence Day festivity on Chater Road, is part of the celebrations marking the 20th anniversary of Hong Kong's Handover to China. – VBL
(Source: SunWebHK.com)