Fuel Tanker Explosion Damages Homes of 3 Filipino Families in Italy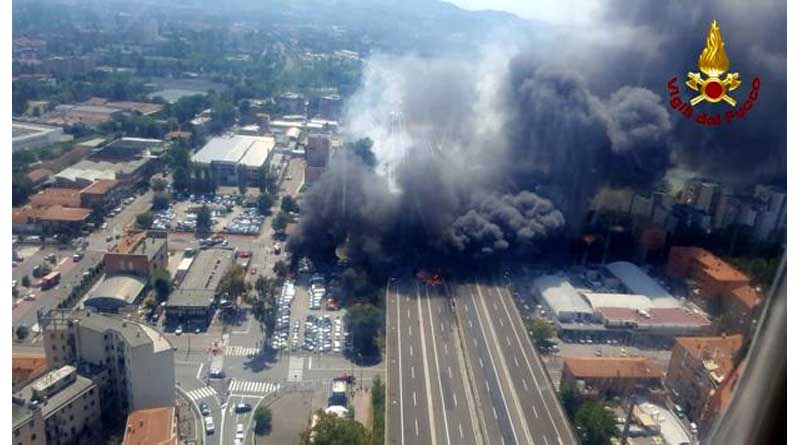 By: Darryl John Esguerra – @inquirerdotnet
In this photo released by the Italian firefighters, an helicopter view of the explosion on a highway in the outskirts of Bologna, Italy, Monday, Aug. 6, 2018. The explosion was reportedly caused by an accident involving a truck that was transporting flammable substances and exploded upon impact. (Photo from Vigili Del Fuoco via AP)
The apartment units of three Filipino families in Bologna, Italy were damaged in a nearby fuel tanker explosion on Monday, according to the Department of Foreign Affairs (DFA).
In a statement issued on Tuesday, the DFA said the Philippine Consulate General in Milan reported that a total of 10 Filipinos, among them two minors and two infants, were affected by the blast.
There were no injuries reported among the Filipino who were evacuated by authorities and checked in at a local hotel, the DFA said.
Consul General Irene Susan Natividad said the blast blew off the doors and windows of the apartment units of the three families and damaged a number of articles inside.
Natividad also said she had sent Vice Consul Flaureen Dacanay and Welfare Officer Jocelyn Hapal to Bologna to assist the families.
The names of the evacuated Filipinos were not immediately available.
A tanker truck carrying a highly flammable gas exploded Monday after rear-ending a stopped truck on a crowded highway near the northern Italian city of Bologna.
At least two people were killed, up to 70 injured and part of the raised expressway collapsed in the fireball. –With a report from AP /atm
(Source: inquirer.net)