Jetstar to Launch Clark-Singapore Budget Flights in November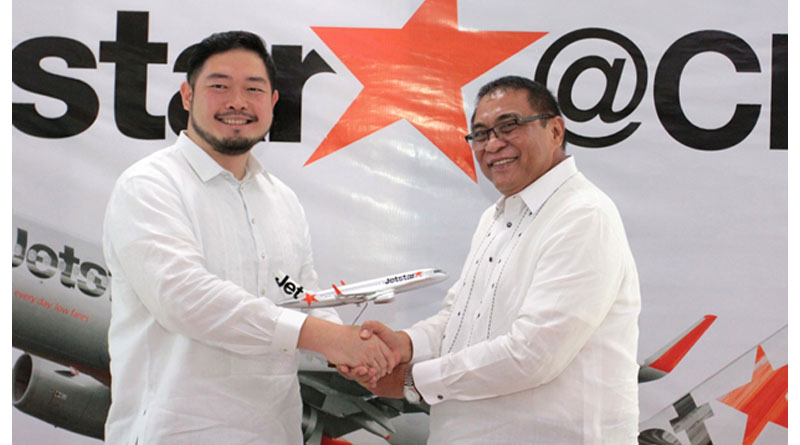 Marna Dagumboy Del Rosario
CLARK, Pampanga — Jetstar Asia on Tuesday announced its new direct flight from Clark to Singapore, broadening the low-fares options for more than 24 million residents from the Clark Airport's catchment population who are currently underserved.
The launching of the newest flight will start on November 28, and will operate Tuesdays, Thursdays and Saturdays between Clark and Singapore.
In his speech, Jetstar Asia's head commercial Francis Loi said the airline is committed to provide low airfare to Luzon.
The budget carrier first took to the skies in December 2004 and currently operates more than 600 weekly return flights to 25 destinations across 13 countries and territories in the Asia-Pacific region.
Bara Pasupathi, Jetstar Asia CEO, said the Clark-Singapore route would be the airline's first service from Clark, considered as the complementary gateway to the Ninoy Aquino International Airport (NAIA).
"Filipinos working in Singapore along with their family members will be able to travel on Asia's best budget carrier," Pasupathi added.
The airline was recognized as the top budget airline in a travel poll by smarttravelasia.com in 2017 after surveying more than 30,000 frequent travellers from Asia, China, US and Europe.
It was also listed as one of the top 10 safest low-cost airlines in the world in 2017 by airlineratings.com.
"Low fares travel in the Philippines is booming, and these additional services give another option for direct services to Singapore, Southeast Asia and beyond," Pasupathi said.
The airline executive also said their new route will provide more than 410,000 seats a year in total capacity between the Philippines and Singapore.
Alexander Cauguiran, president and CEO of Clark International Airport Corp. (CIAC), welcomed this development, saying that Jetstar's business decision to mount flights at Clark is in recognition of the latter's marketability and the increasing number of the airport's local destinations.
"The (Clark-Singapore) flights will definitely boost our operations as we are looking at more travellers who may now choose Clark to fly Jetstar," Cauguiran added.
The new service will be operated by Jetstar Asia's 180-seat Airbus A320.
"Adding more than 56,000 extra seats in a year will be a step towards supporting the Philippine government's agenda to ease congestion at NAIA," Pasupathi said.
Airline officials also announced special ticket sales from PHP1,000 via jetstar.com beginning August 15 to celebrate the new Clark-Singapore flights.
Clark airport's catchment population consists of Regions I (Ilocos) at 5 million; Region II (Cagayan Valley) at 3.4million; Region III (Central Luzon) at 11.2 million; the Cordillera Administrative Region (CAR) at 1.7 million; and the CAMANAVA area (Caloocan, Malabon, Navotas, Valenzuela) with 2.8 million, totaling more than 24 million potential passengers.
Clark Airport (CRK) currently has 134 international flights and 104 domestic flights weekly and passenger traffic is projected to reach 1.5 million by end of 2017.
Meanwhile, China Eastern Airlines, China's second largest carrier by passenger numbers, will begin its Clark-Shanghai flights on October 18.
Also within the year, Philippine Airlines will add its Tagbilaran, Bacolod and Cagayan de Oro routes from Clark.
In addition to expanding its commercial horizons, the construction of CRK's new terminal-building that can take in 8 million passengers annually is scheduled to be finished by the first quarter of 2020.
The project is spearheaded by Transportation Secretary Arthur Tugade and Bases Conversion and Development Authority (BCDA) president Vince Dizon. (PNA)
(Source: PNA.gov.ph)