Knight in Shining Armor for OFWs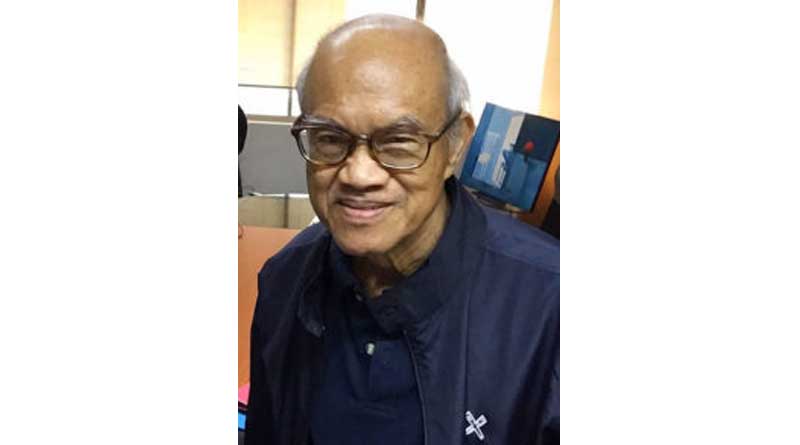 In late 2016 during an event held in the country of Netherlands, Filipino manpower recruitment executive Rene Cristobal was honored with a Dutch Royal recognition by way of a knighthood.
Primarily for providing Dutch shipping companies with competent Filipino seafarers, Cristobal was appointed as Knight in the Order of Orange-Nassau, a title given to people with "longstanding meritorious service."
"It was an event featuring Dutch and Filipino designers and without me knowing, my three children were also there and I would be given such an honor," recalled Cristobal who, since 1978, has advocated the deployment of Filipino professionals and technical personnel without charging them any recruitment or placement fees.
Cristobal is the chairman of the board of companies service-providing in both land-based and sea-based sectors, namely, Manpower Resources of Asia, Inc. (MRA), MRA Offshore Corporation (MRAO), and Sealanes Marine Services, Inc. (SMS). These companies have consistently won the Hall of Fame award from POEA and DOLE, having deployed more than 50,000 overseas Filipino workers (OFWs) to mostly European and American employers with worksites worldwide.
The founder and president of Association for Professionalism in Overseas Employment, Inc.(ASPROE), Cristobal is also instrumental in the creation of the Philippines-Netherlands Business Council (PNBC) back in 2005—one that assists Dutch businesses eyeing to operate in the country.
In his thrilled, educated voice, Cristobal gave his reason for being fair almost to a fault, "I do not collect placement fees even if I am allowed. It's the employers who pay me for my company's services. Under my care, a qualified applicant goes abroad without having to pay a month's salary, which as a common practice, happens even before he starts working."
It is said that the habit of collecting fees from people applying for jobs is widespread in the Philippines. He has gone against the tide from the get-go, vigorously promoting the policy of non-collection of fees from Filipino applicants bound for Dutch and foreign ships. For this, ASPROE, founded in 1986, remains as the only association of recruitment agencies with non-charging members.
Reflecting on his knighthood, he said, "I may have earned the trust of the Dutch companies. This award is important in the sense that it was given by a foreign government. I think I've heard that never in the history of the world a recruiter had been honored with such."
To look deeper into the citation, the Dutch fleet in Rotterdam harbor, one of the most competitive in the world, has some 30,000 workers in board, half of this number are Filipinos.
Needless to say, Cristobal has bridged cultural differences between Dutch and Filipino negotiators through "economically but also ethically responsible agreements." This scenario ensures that Filipino seafarers perform more effectively because of job satisfaction, from enough salary to promotion of well-being, therefore contributing to the success of the Dutch shipping sector.
Historically, the man is always at the forefront of OFW protection and care. He was appointed by then President Fidel Ramos to serve as commissioner of the Gancayao Commission that instituted reforms in the protection of overseas Filipinos (as manifested in Migrant Workers Act. no.8042) and led the investigation into the 1995 Flor Contemplacion case in Singapore. He eventually co-founded the Bagong Bayani Foundation, Inc. that grants Bagong Bayani Awards.
Likewise he is firmly associated with the Employers Confederation of the Philippines (ECOP) as specialist on overseas employment and sustainable development.
Cristobal's straightforward business mindset can be rooted from both his strong spirituality and humble beginnings. He was once a working student so poor he had to sweat it out to shoulder his tuition. In 1955, he graduated cum laude (BSBA) at the University of the East and then two years later graduated from the second advanced management program in the Far East conducted by a faculty from the Harvard University Graduate School of Business. He did employee work for 16 years before "retiring at 34" to put up his own.
He held top posts in various companies, including ones with ties with the Dutch, such as Van Aarsen Pacific, a joint venture with a Dutch contractor for feedmills, and Center for Multicultural Studies Inc. a training organization for Dutch language and culture.
He has also excelled in microfinancing, serving as president of Tulay Sa Pagunlad Inc. (TSPI), an NGO that has helped 300,000 Filipinos, most of them women borrowers.
He expressed, "It is my purpose to help those who are in need. Love God and your neighbors."
Cristobal's concern for OFW welfare goes beyond his strict policy of no placement fee. In fact he has gotten close to the families of workers he sent to Netherlands and other countries. He dealt with remittances issue and even safety gears to be brought on the flight for work.
That Cristobal is a low-profile achiever says a lot about his character. He calmly summed up. "I'm just doing what is right. It's the Christian way."
(Source: ManilaTimes.net)