Labatt Cracks Whip on Online Selling Targeting OFWs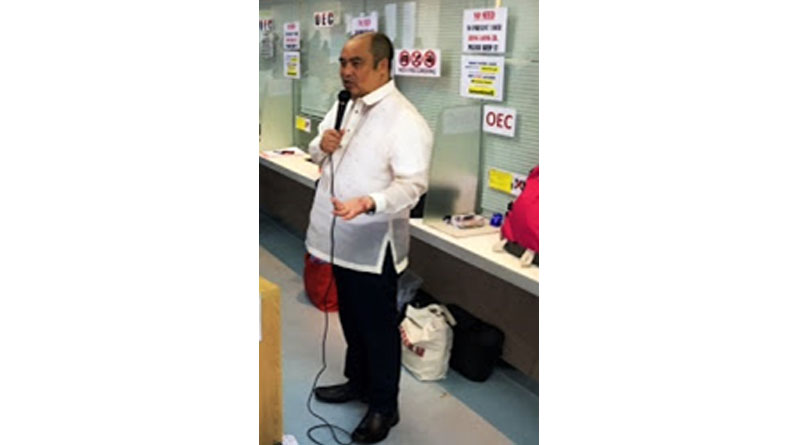 Image Caption: Labatt Jolly de la Torre
By Vir B. Lumicao
Labor Attaché Jalilo de la Torre has warned OFWs in the territory to ignore open invitations on social media such as Facebook to sell products via online networking as it is illegal for a foreign domestic helper to do so in Hong Kong.
De la Torre also warned the person who posted the invitation cum product video that he would report her to the relevant government agencies in Manila such as the Philippine Overseas Employment Office and the Department of Trade.
De la Torre was reacting to a hyperlinked Facebook post introducing Nlighten Skin Care and Nhance Health Care by Rodalyn & Grace to netizens that might have found its way into the labor official's account through sharing by his online friends.  The post came with three videos promoting the cosmetic products and services.                                                                    "OFWs in Hong Kong. Beware of this irresponsible seller. Please be reminded that engaging in any other gainful employment other than for your employer on your visa is illegal in Hong Kong as a breach of condition of stay," the labor attaché commented on Sept 1 on his widely followed personal Facebook page.
"May I warn this seller on this video that if he continues to do this, I will have to report him to both POEA and the DTI," De la Torre said.
In a follow-up comment on Sept 1, De la Torre called the attention of POEA Administrator Hans Leo Cacdac to the intrusive post.
"Dear Admin, sorry this is the only way to link this video to you. May we ask you to refer this issue to the DTI for any possible violation of trade regulations. This encourages OFWs to engage in illegal work which is a breach of condition of their stay in Hong Kong," the labor attache said.
The post invites readers to become entrepreneurs by viewing the videos, which entice viewers to sign up with the promoter as seller of various cosmetic and health products through networking with as little capitalization as P500.
The promotion was posted on Aug. 26 on De la Torre's FB wall. As of Sept. 2, the unwanted post already had nearly 4,000 viewers on De la Torre's page, but had been blocked since.
As with similar other consumer product networking campaign, whether legitimate or scams, the promotion plays on the common dream of OFWs to work and earn big money at home without having to leave their loved ones.
"Ikaw ba ay Pinoy in Hong Kong. Panoorin mo to baka makatulong sayo at sa pamilya mo dito sa Pinas na magkasama sama na kayo while having a good income at the comfort of your familya. Pakingan at intindihing mabuti then pm mo ko para personal kitang matulungan. You have the freedom to choose, to be pessimistic or to be optimistic," the message read.
It directed the readers to click a link, contact "Rodalyn N Grace", or add the source by clicking another link.
Last year, two Filipinas were arrested by Immigration officers and charged with selling unsafe products and immigration offenses for selling skin-whitening facial cream on Facebook.
They avoided going to jail by agreeing to pay a fine of $3,000 in a plea bargain proposed by the prosecutor. The court ordered one of them to pay the $970 cost of the product laboratory tests. All charges against the two were dropped as part of the plea bargain.
(Source: SunWebHK.com)