Libya Says to Probe 'Slave Auction' Footage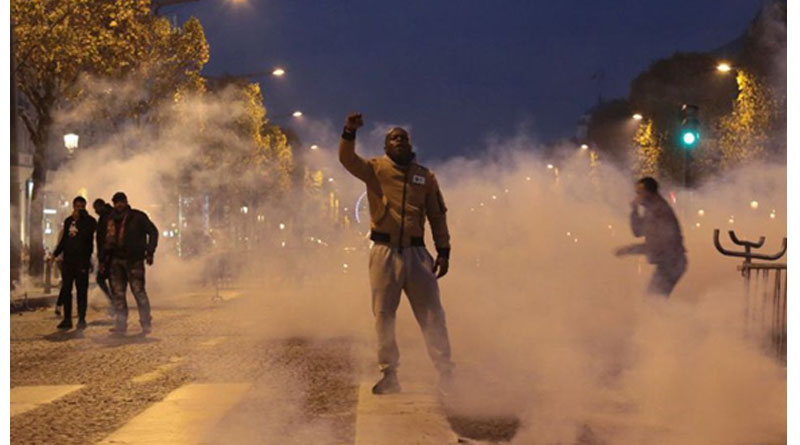 Image Caption: A demonstrator, standing through the smoke from tear gas, raises his fist during a march against "slavery in Libya" on the Champs-Elysees avenue face antiriot police in Paris on Saturday. Zakaria Abdelkafi, AFP
Agence France-Presse
TRIPOLI – Libya will investigate alleged slave trading in the country, the internationally recognized government announced Sunday, following the release of video footage appearing to show migrants being auctioned off.
Chaos-ridden Libya has long been a major transit hub for migrants trying to reach Europe, and many of them have fallen prey to serious abuse in the North African country at the hands of traffickers and others.
US television network CNN aired the footage last week of an apparent live auction in Libya where black men are presented to North African buyers as potential farmhands and sold off for as little as $400.
Deputy Prime Minister Ahmed Metig said his UN-backed Government of National Accord would investigate the allegations, in a statement posted Sunday on the Facebook page of the GNA's press office.
Metig said he would instruct the formation of a "commission to investigate these reports in order to apprehend and bring those responsible to justice", the statement added.
The foreign ministry in a statement added: "If these allegations are confirmed, all implicated persons will be punished."
The CNN report apparently showing migrants being auctioned off in Libya was shared widely on social media, provoking outrage in Africa, Europe and the rest of the world.
The grainy footage shot on a mobile telephone shows a man CNN said was Nigerian and in his 20s being offered up for sale as part of a group of "big strong boys for farm work".
In the CNN report, a person identified as an auctioneer can be heard saying "800… 900… 1,000… 1,100…" before two men are sold for 1,200 Libyan dinars ($875).
Around 1,000 people took to the streets of Paris on Saturday to protest against slavery in Libya, according to French police. The gathering led to clashes between demonstrators and security forces.
Guinean President Alpha Conde, who is also chairman of the African Union, on Friday called for an inquiry and prosecutions relating to what he termed a "despicable trade… from another era".
Senegal's government expressed "outrage at the sale of Sub-Saharan African migrants on Libyan soil" that constituted a "blight on the conscience of humanity".
African migrants from nations including Guinea and Senegal but also Mali, Niger, Nigeria and Gambia make the dangerous crossing through the Sahara to Libya with hopes of making it over the Mediterranean Sea to Italy.
But testimony collected by AFP has revealed a litany of rights abuses at the hands of gangsters, human traffickers and the Libyan security forces, while many end up stuck in the unstable North African nation for years.
More than 8,800 stranded migrants have been returned home this year, according to the International Organization for Migration, which is also compiling evidence of slavery.
(Source: ABS-CBN.com)