Midwives Urged to Renew License Soon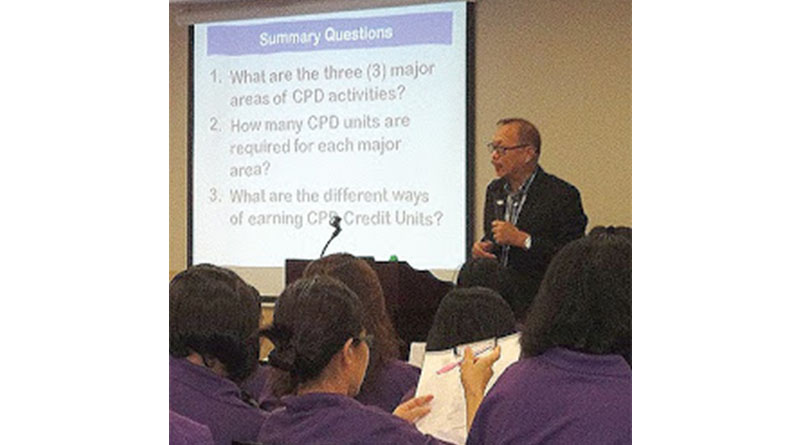 By Vir B. Lumicao
Filipino midwives including those in Hong Kong whose licenses have expired or are expiring should renew them before Dec 31 this year to avail themselves of an amnesty exempting them from garnering additional "credit units" from costly seminars.
Further relief is on the way, as the Department of Health is reportedly in the process of making all scientific seminars offered by the government free of charge.
Dr Alejandro San Pedro, chairman of the Board of Midwifery of the Professional Regulation Commission, issued the call at the National Convention of Midwives held at the Admiralty Convention Centre on Oct 8.
Dr San Pedro reminded the midwives that they are required by law to attend seminars as part of their continuing professional development, or CPD, for which they earn credit units.
The PRC requires midwives to earn 15 credit units a year from seminars and conventions to accumulate 45 credit units the three-year validity of their licenses, San Pedro said.
So, they must have earned 15 credit units if they intend to renew their licenses next year, and 30 credit units if they do so in 2019, he said. Attendance in the Hong Kong convention earned 4 credit units for each participant.
But for this year, the midwifery board is exempting midwives from the 15 credit unit requirement; however they must do so before the year ends, he said.
Former health assistant secretary Cecille Santos, president emeritus of the Philippine League of Government and Private Midwives Inc, told The SUN the health department's plan for free seminars would be a big relief cost-wise for credit unit chasers.
Santos said CPD was a requirement imposed by the PRC years ago but was halted after dubious CPD training institutions proliferated and were reported to be selling certificates without really providing training.
PRC's attempt to restore it has met with criticism because midwives, including those working in government hospitals, have to spend money to attend the seminars in order to earn credit units.
Santos said attendance in local annual conventions usually costs Php250 to Php500 per head. For national general assembly conventions lasting three days, the cost reaches PhP3,500 per person including lunch and snacks, but excluding accommodation.
The two-day convention, which was held for the first time outside the country and attended by about 200 midwives, cost PhP6,500 for those coming from the Philippines and $300 for the Hong Kong-based OFWs.
The convention was timed for Midwifery Week. The PLGPMI board reportedly decided to hold the Hong Kong event to bring CPD closer to the OFW midwives here. "CPD will help you identify issues and challenges and find solutions to those issues," San Pedro said in his presentation. "What we want to happen is for you to be confident, competent and caring professional capable of providing the service."
San Pedro said the midwifery board is giving midwives, especially those working as domestic helpers here, an opportunity to consult members who want to earn units to be able to return to the profession.
Dr Florminda Tejano, incumbent president of the PLGPMI, discussed adherence at all times to the midwifery profession's code of ethics.
(Source: SunWebHK.com)