Now, UAE Filipinos Can Pay Terminal Fees During Flight Booking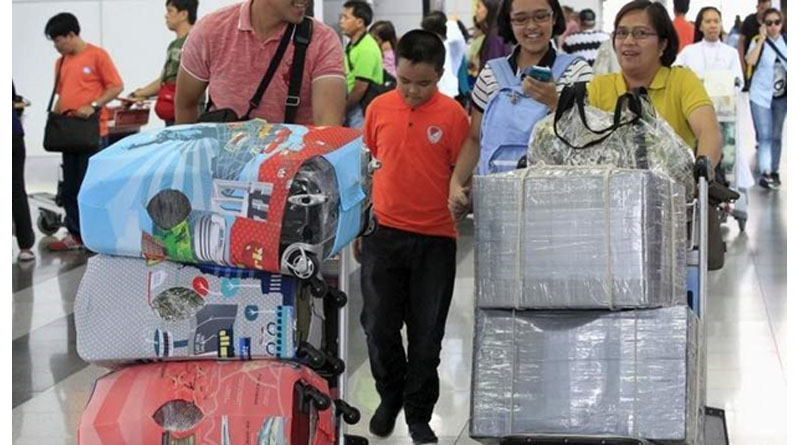 (Reuters file photo)
It is expected to benefit around one million Filipinos residing in the UAE.
Filipino expats in the United Arab Emirates can now pay the Domestic Passenger Service Charge (DPSC), commonly known as 'Terminal Fee', right at the point of booking and no longer need to queue up at the counters when they book their flights with Cebu Pacific.
The Philippine airline has integrated the DPSC into the cost of its tickets for all domestic flights operating out of airports managed by the Civil Aviation Authority of the Philippines (CAAP). The integration of the terminal fee DPSC across all booking systems of Cebu Pacific took effect last September 15, 2017.
Integration of the terminal fee into fares is expected to benefit around one million Filipinos residing in the UAE.
CAAP-managed airports include all domestic terminals across the Philippines, except for the Ninoy Aquino International Airport in Manila, the Mactan-Cebu International Airport, the Clark International Airport and the Godofredo P. Ramos Airport in Caticlan (Boracay).
Depending on the airport, CAAP terminal fees range from 50 pesos (Dh3.60) to 200 pesos (Dh14). Passengers who are merely transiting through the 33 CAAP-managed airports are exempted from paying the DPSC.
The Manila International Airport Authority and the Mactan-Cebu International Airport Authority have included domestic terminal fees for the Manila and Cebu airports in ticket payments since 2013.
Atty. JR Mantaring, Vice President for Corporate Affairs of Cebu Pacific, said: "The system innovation is a convenience to travelers and they no longer have to line-up at the counters to pay for the domestic terminal fee. This integration of all fees at the point of booking will make things simpler and easier for the traveling public."
The integration of the DPSC into CEB fares was made possible through the implementation by CAAP of Memorandum Circular 02-17 last September 1, 2017. Under the new directive, the DPSC would be paid to Cebu Pacific then remitted to CAAP.
"We laud CAAP and the Department of Transportation for taking this measure to decongest our air terminals as the volume of travelers continues to increase. We also thank the Department of Tourism for their efforts to find ways to help improve passenger experience. Rest assured, CEB will continue working with relevant government authorities to continue to advance the travel experience of everyJuan," Mantaring added.
(Source: KhaleejTimes.com)