OFW Cards, Local Jobs Offered on EDSA Day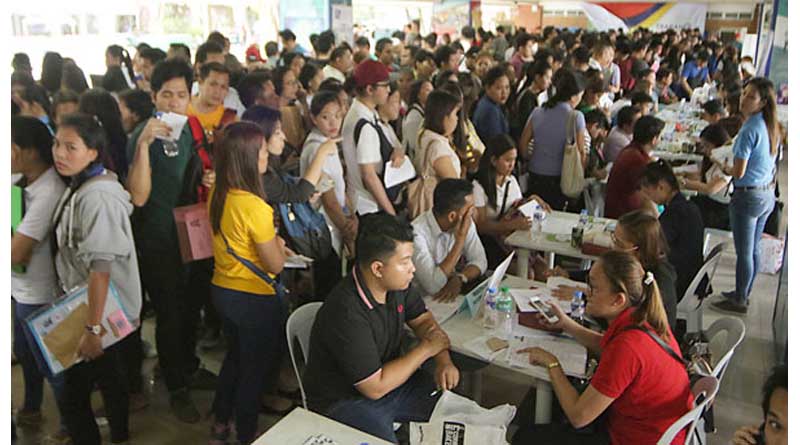 Image Caption: JOB FAIR Thousands trooped to Quezon City Hall on Sunday hoping to land a job with 46 employers offering more than 9,000 vacancies. PHOTO BY BOB DUNGO JR.
The Department of Labor and Employment (DoLE) opened around 5,000 local and overseas jobs at a Quezon City fair on Sunday as part of its celebration of the 32nd EDSA People Power revolt.
The "Trabaho, Negosyo, Kabuhayan" Job and Business Fair was held at the Quezon City Hall grounds from 8 a.m. to 5 p.m.
In his welcome remarks, Quezon City Mayor Herbert Bautista said, "Quezon City recognizes government efforts in assisting our OFWs, so we should take advantage of this opportunity."
Meanwhile, Labor Undersecretary Dominador Say, DOoLE-NCR director Henry John Jalbuena and former Rep. Jacinto Paras graced the event's ribbon-cutting ceremony.
More than 15 local employers offered to thousands of Quezon City residents numerous positions for sales associates, cashiers, carpenters, management trainees and painters.
DoLE also offered iDoLE cards for overseas Filipino workers (OFWs) who have already registered with "Balik Manggawa," an online platform for OFWs on leave.
"The agency is accepting Balik Manggagawa applicants and even current OFWs as long as they have a valid passport," said POEA officer-in-charge George Parlan of the Systems Management Division.
The Philippine Overseas Employment Administration announced that 10 recruitment agencies are offering more than 5,000 land and sea-based jobs.
These job vacancies include waitress, ground steward, nurse, midwife, medical technologist, engineer, surveyor, electrician, technician, plumber, carpenter, driver, factory worker, barista, laborer and cook.
These positions are available in Qatar, Bahrain, United Arab Emirates, Papua New Guinea, Australia, New Zealand, Taiwan, and Malaysia.
(Source: ManilaTimes.net)