Old Newspaper Reveals Previous Attempts by Iran to Undermine Haj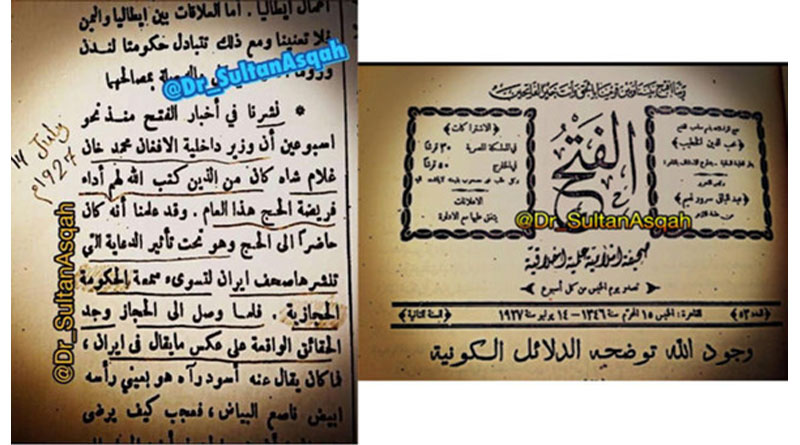 Rodolfo C. Estimo Jr.
RIYADH: Netizens have uploaded on Twitter a newspaper page that goes back to 1927, saying that Iran had been trying to undermine Saudi Arabia in connection with the Haj.
The page from Al-Fath newspaper said that Iran had been publishing false information in connection with the annual pilgrimage in the Kingdom to discredit it.
The newspaper page cited the case of the then Afghan Interior Minister Mohammad Khan Ghulam Shah, who was planning to come to the Kingdom to perform Haj.
He read news items regarding pilgrimage in the Kingdom from the Iranian media, but when he arrived in the Kindom to perform Haj he found that the realities were contrary to what he had earlier read.
It may be mentioned that Iran believes in the principle "innocence of the infidels," without which Haj pilgrimage wouldn't be complete.
This belief caused some pilgrims to stage some of the demonstrations during the pilgrimage season in 1987, which resulted in bloody clashes when Iranian pilgrims rioted in the streets of Makkah.
Iranian pilgrims staged political demonstrations at the holy sites, raised pictures of the then Iran's supreme leader Khomeini, and chanted incendiary slogans of the Iranian revolution.
They also reportedly cut off roads, blocked traffic, tried to storm the Grand Mosque, and denounced the United States and Israel.
These led to violent clashes between Iranian pilgrims and the local security forces.
In 1989, Iranians and some Kuwaiti pilgrims belonging to the "Hezbollah of Hijaz," were also involved in an attempt to use gas to poison thousands of Hajis at Al-Ma'aisim Tunnel in Makkah, and this was carried out in coordination with Iranian authorities.
After that, Iran boycotted the annual pilgrimage season in the Kingdom from 1990 to 1998.
(Source: ArabNews.com)