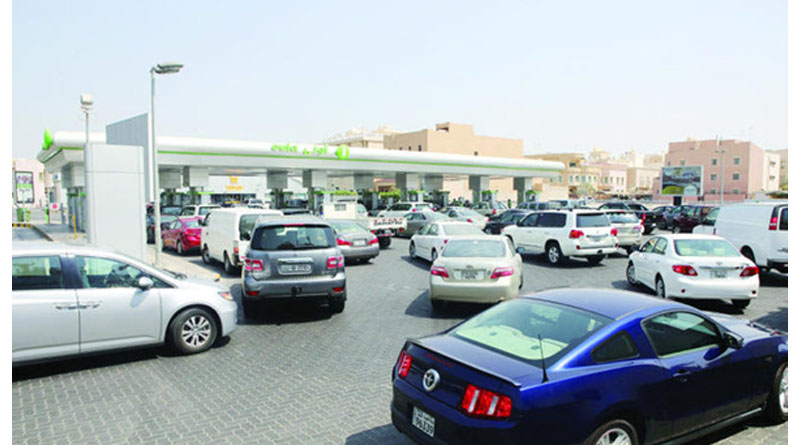 People line up to fill their cars with fuel at a petrol station in Kuwait City. (AFP)
Reuters
LONDON: OPEC's oil output is likely in August to reach its highest in recent history, a Reuters survey found on Wednesday, as extra barrels from Saudi Arabia and other Gulf members make up for losses in Nigeria and Libya.
Production in top OPEC exporter Saudi Arabia has likely reached a fresh record, sources in the survey said, as it meets seasonally higher domestic demand and focuses on maintaining market share.
Other big Middle Eastern producers, except Iran, also boosted output.
Supply from the Organization of the Petroleum Exporting Countries has risen to 33.50 million barrels per day (bpd) from a revised 33.46 million bpd in July, according to the survey based on shipping data and information from industry sources.
The gain could add to skepticism about renewed OPEC talk of freezing output to support prices. Oil has risen toward $48 a barrel from $42 at the start of August, helped by such speculation, but these hopes have waned in recent days.
"OPEC does not really want to freeze production," said Olivier Jakob, oil analyst at Petromatrix.
"But it dreams of freezing prices at current levels."
Supply has risen since OPEC in 2014 dropped its historic role of fixing output to prop up prices as Saudi Arabia, Iraq and Iran pumped more. Production has also climbed due to the return of Indonesia in 2015 and Gabon in July as members.
The membership changes have skewed historical comparisons. August's supply from OPEC excluding Gabon and Indonesia, at 32.54 million bpd, is the highest in Reuters survey records starting in 1997.
In August, Saudi Arabia is expected at least to match July's record of 10.67 million bpd, sources in the survey said. Other industry sources told Reuters a new record as high as 10.90 million bpd was possible in August.
There is no sign of any deliberate cutbacks. Saudi Energy Minister Khalid Al-Falih told Reuters last week that August production had remained around July's level, without giving a precise figure.
The UAE continues to expand output, hitting 3.0 million bpd in August for the first time in the Reuters survey. Iraq and Kuwait pumped slightly more than in July, the survey found.
Supply in Iran, OPEC's fastest source of production growth earlier this year after the lifting of Western sanctions, has held steady this month as output nears the pre-sanctions rate. Iran is seeking investment to boost supply further.
Of countries with lower output, the biggest drop came from Nigeria as militants attacked oil facilities.
The Qua Iboe stream, the country's largest, was under force majeure for the whole month, reducing exports.
Libyan output slipped further and another decline occurred in Venezuela, hit by an economic crisis.
The Reuters survey is based on shipping data provided by external sources, Thomson Reuters flows data, and information provided by sources at oil companies, OPEC and consulting firms.
(Source: ArabNews.com)