PH Ambassador Presents Credentials to Grand Duke of Luxembourg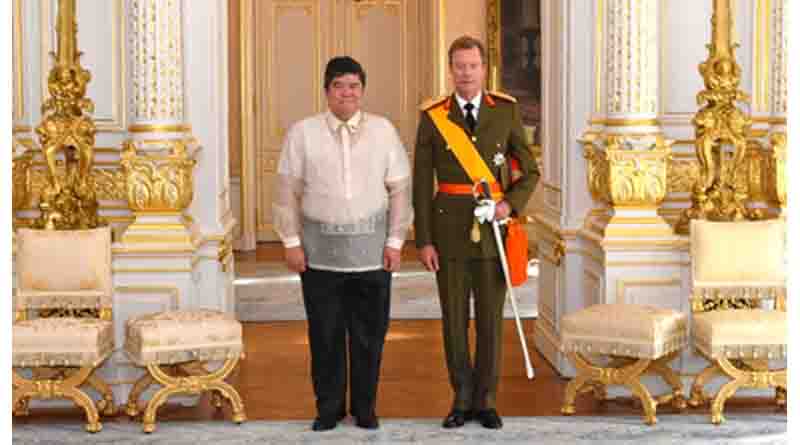 Image Caption: Ambassador to Belgium Eduardo José A. de Vega and His Royal Highness Henri, Grand Duke of Luxembourg, during the presentation of letters of credentials at the Grand Ducal Palace. (Photo courtesy of the Grand Ducal Court of Luxembourg)
BRUSSELS 22 October 2018 — Cementing the cordial ties between the Philippines and Luxembourg, Ambassador to Brussels Eduardo José A. de Vega presented his letters of credentials to His Royal Highness Henri, Grand Duke of Luxembourg, in a ceremony held at the Grand Ducal Palace in Luxembourg City on 09 October 2018.
The presentation of credentials marks the official accreditation of Ambassador de Vega as the non-resident Ambassador to Luxembourg. He is currently based in Brussels and also holds jurisdiction over Belgium, and the European Union.
During the brief meeting that followed the ceremony, Ambassador de Vega and Grand Duke Henri discussed the good state of bilateral relations between the Philippines and Luxembourg, as well as other key issues of mutual interests.
Ambassador de Vega expressed the Philippines' desire to further expand bilateral relations, particularly in the areas of trade and investment, and to continue exploring opportunities for bilateral cooperation.
The two officials also talked about the situation of Filipinos in Luxembourg. The Grand Duke also expressed his country's gratitude for the contributions of Filipino migrant workers to the development of his country. He also recalled his visit to Manila during the time of former President Corazon Aquino and was pleased to share that one of his sons visited the country last year.
Following the ceremony, Ambassador de Vega hosted a celebratory dinner for the leaders of the Filipino Community in Luxembourg, where they expressed how they were pleased with the appointment of a new Ambassador and also shared their experiences as Filipinos living in Luxembourg.
Grand Duke Henri, who acceded to the throne on 07 October 2000, is the Head of State of the Grand Duchy of Luxembourg and commands the Luxembourg Army, in which he holds the rank of General.
Ambassador de Vega was among five Ambassadors who presented their credentials to the Grand Duke. The others were the top envoys of Australia, Angola, Mexico, and Trinidad and Tobago.
The Ambassador is a career diplomat, who has been in government for over 25 years, and has served in Philippine Foreign Service Posts in Tel Aviv, Washington, D.C., New York, and Barcelona. His most recent posting prior to his arrival in Belgium was as Ambassador to Mexico. He was formally accredited as resident envoy to the Kingdom of Belgium in a ceremony with Belgian King Philippe on 23 May 2018.
Diplomatic relations between the Philippines and Luxembourg were established on 26 August 1946. About 1,000 Filipinos live and work in Luxembourg, most of whom are professionals. The Philippine Consulate in Luxembourg is currently headed by Honorary Consul Alain Kinsch. END
(Source: dfa.gov.ph)