PH Embassy in Italy Services Over 850 Filipinos in Consular Mission in Florence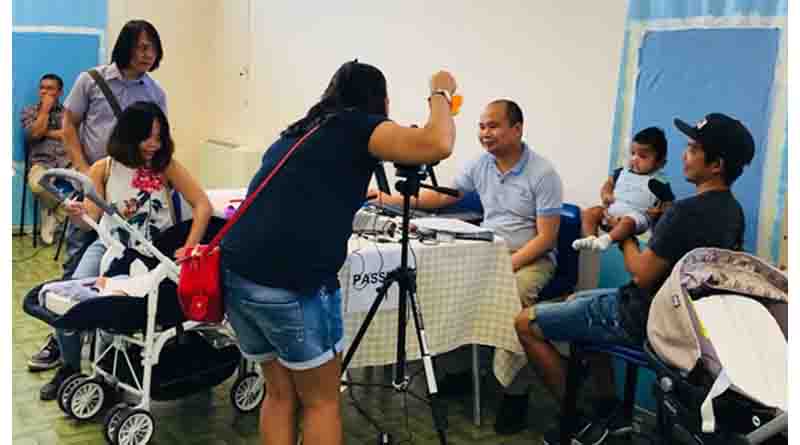 Image Caption: A baby gets his first passport photo taken at the Philippine Embassy in Rome's consular mission in Florence, Italy on 16 September 2018. For convenience of families and to speed-up processing, the Embassy sets up a dedicated passport encoder for babies and minors during consular outreach missions. (Rome PE photo)
ROME 24 September 2018 – A total of 853 service transactions were processed for Filipinos at the Philippine Embassy in Rome's consular outreach mission in Florence, Italy from 15 to 16 September 2018.
The consular team was composed of personnel from the Embassy and partner agencies Philippine Overseas Labor Office (POLO)-Rome, Overseas Worker Welfare Administration (OWWA), Pag-IBIG, and Social Security Services (SSS).
Overseas Filipinos availed themselves of outreach services that included 259 passport applications, 154 overseas absentee voting registrations, 125 POLO and OWWA services, and 175 SSS services.
This was the second consular outreach in Florence in 2018 by the Embassy, serving both Filipinos living in Florence as well nearby cities. END
Overseas Filipinos in Florence have their passport applications checked and paid for at the Philippine Embassy in Rome's consular mission in Florence, Italy from 15 to 16 September 2018. The Embassy pre-processes and readies passport application forms weeks in advance of the consular mission to make consular services faster for Filipinos. (Rome PE photo)
(Source: dfa.gov.ph)