Philippines Beauty Pageant Draws Big Crowd in Riyadh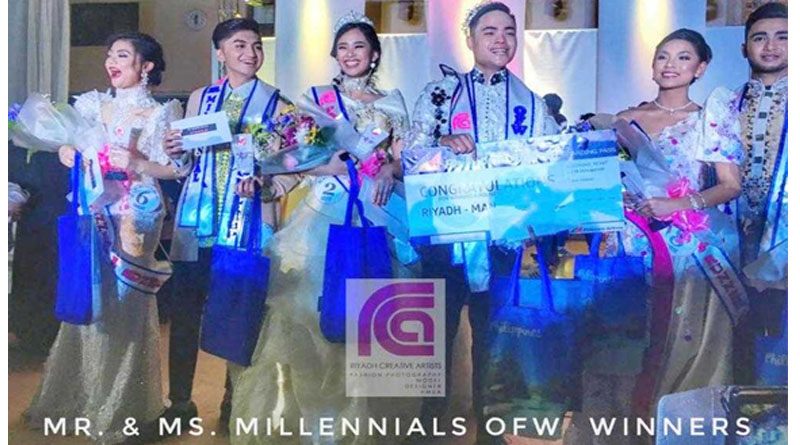 RIYADH — Mr. Millennial OFW 2017, Jayson Saguindan, the new PAL Ambassador (male) and Ms. Millennial OFW 2017, Ristelle Louise Rivera, PAL Ambassador (women), won in a contest participated by 18 aspirants during a show staged recently at Second Philippine International School (SPIS) here.
The search for the first-ever Mr. and Ms. Millennial OFW 2017, a personality contest aims at finding the next Millennial OFW (Overseas Filipino Workers) Tourism Ambassadors of the Philippines. This contest provides an opportunity to accentuate different culture and ethnicities not only for Saudi Arabia but all over the world to showcase not just their beauty, personality and potentials but also their intelligence in a local, national and international setting. It serves as a training ground for the millennials to gain courage and introduce their advocacies.
Riyadh Creative Artists Fashion Photography (RCA) is a group of OFW artists based in Riyadh whose talents and skills include photographers, creative directors, conceptualists, stylists, designers, makeup artists and models. It was founded on Oct. 18, 2013 by Founding Members Norman Cunanan, Marlon Vicente, Rico Sumadia and Alfredo Bascones, Jr.
The newly crowned 17-year old Millenial OFW 2017, Jayson Saguindan, is studying in Al Danah International School in Riyadh, Grade 12. He said, "The hunt was a competition but for me it was a new home where sharpen my existing skills and acquire new talents."
Miss Millennial OFW 2017, Ristelle Louise Rivera,15, studying at Future Generation Philippine International School Grade 10/4th year likes to read, draw, sing and playing the guitar. "Being crowned as the 1st ever Ms. Millennial OFW is a great honor and privilege. The journey couldn't have been completed without the blessings of Almighty, my parents and RCA productions."
On the coronation night, the 20 contestant staged in three different segment — festival attire, OFW (Overseas Filipino Workers) Attire, and Barong & Filipiniana Attire (a traditional clothing of the Filipinos) plus a Question and Answer category.
Marlon Baris Vicente (RCA President) said the judging process for this first year was tough as all the aspirants were very talented. "There were three special categories where the judges did not give any verdict instead the contestant themselves selected Mr. & Ms. Personality."
The points of sponsors category Philippine Airlines, Lebara Mobile KSA, Enjaz Banking Services, LBC Express Inc., Lulu Hypermarket, Sta. Lucia Land, Inc., Wadge Shots Photography, Almakdum S. Mohammed, Ian Khulet, Oppa Badminton group, Lamogha Flower Shop and LM's Catering Services supported by Community Investigative Support-CIS and 99.7 My Friends (FM) did not add up to the final marks of the crowning night.
The third category of the Mr. and Ms. Photogenic was adjudged by the official photographer of the organization.
Below are the results of the different categories and minor awards.
Special awards
Mr. & Ms. Congeniality, No. 3 Kenny Mark Lancita & No. 6 Bea Robin Pamintuan
Mr. & Ms. Personality, No. 5 Ansell Casuga & No. 3 Mabelle Maniquiz
Mr. & Ms. Popularity, No. 2 Jayson Saguindan & No. 6 Bea Robin Pamintuan
Mr. & Ms. Lulu Hypermarket, No. 11 Ben Kaddam & No. 4 Sarah Khundokar
Mr. & Ms. Lebara Mobile KSA, No. 7 Reyn Magtira, Jr. & No. 5 Amira Attwa
Mr. & Ms. Sta. Lucia Land, Inc., No. 6 Kloyd Antaresh Chand & No. 9 Christalyn Ordona
LBC Ambassador, No. 5 Ansell Casuga
LBC Ambassadress, No. 6 Bea Robin Pamintuan
Enjaz Ambassadress, No. 6 Bea Robin Pamintuan
Minor award
Best Designer —Philippine Festival Attire, Male, No. 6 Edgar Maravilla
Best Designer — Philippine Festival Attire, Female, No. 8 Noel Dela Cruz
Best Designer — Barong Tagalog, No. 2 Ronald Mariano
Best Designer — Filipiñana, No. 8 Noel Dela Cruz
Mr. & Ms. Millennial OFW LOOK, No. 11 Ben Kaddam & No. 1 Angelyn Babaran
Ms. Photogenic — No. 2 Ristelle Louise Rivera
Mr. Photogenic — No. 4 Cristopher Santos
Best in OFW Attire — No. 8 Mariel Gapasin & No. 9 Niño Lei Nunag
Best in Festival Attire — No. 2 Ristelle Louise Rivera & No. 8 Eugene Estillore
Best in Barong — No. 11 Ben Kaddam
Best in Filipiniana — No. 6 Bea Robin Pamintuan
Major awards
1st runner-up, Mr. Neb Shamier Tan Kaddam & Ms. Mariel Gapasin
2nd runner-up, Mr. Kloyd Antaresh Chand & Ms. Bea Robin Mayo Pamintuan
(Source: SaudiGazette.com.sa)