Pinoys in France Join March for Domestic Workers' Rights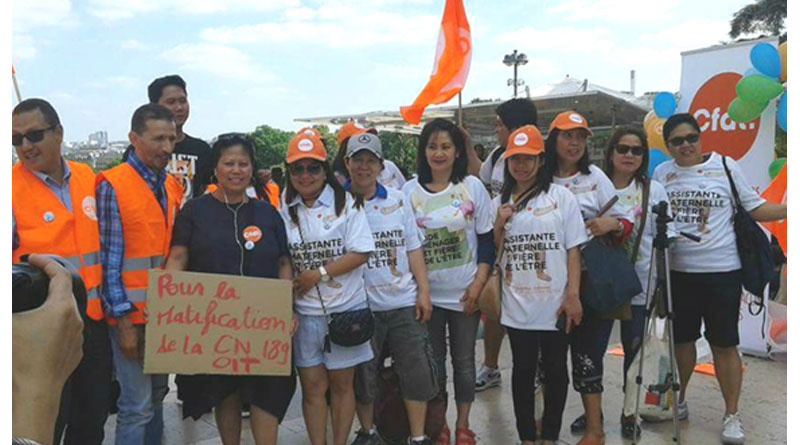 Marilyn Paed-Rayray, ABS-CBN Europe News Bureau
FRANCE – Filipinos were among the many nationalities who joined a rally led by several labor unions for domestic workers rights.
"I joined this rally to show my support to all domestic workers all over the world. They want to push the French government to approve this convention," said Junio Martinez.
Martinez was referring to the International Labor Organization's (ILO) Convention 189, the convention for decent work for domestic workers.
In 2011, Uruguay was the first to ratify Convention 189. The Philippines followed suit in 2012.
According to the ILO, deplorable working conditions, labor exploitation and human rights abuses are major problems facing domestic workers.
Under Convention 189, domestic workers will have the same rights as regular workers. These include reasonable working hours, a day-off of at least 24 hours a week, a contract with clear and specified terms and conditions, and the freedom to join associations and social dialogues.
Once ratified, Convention 189 will protect domestic workers against discrimination and violence.
"This signing of the convention would also ensure that migrant domestic workers are better protected. Because one of the situations in France is that migrant domestic workers may not seek justice when faced with difficult or unjust working conditions because they do not necessarily have their working papers," said Rachel Moussie, social protection adviser at the Women in Informal Employment: Globalizing and Organizing, a global research-policy network.
Filipino domestic workers in Paris feel lucky for having Zita Cabais-Obra, a fellow Filipino working as general secretary of the French Democratic Confederation of Labour (CFDT) who helps kababayans with problems related to work.
"One of the things she does is help workers, not just Filipinos, who were abused by employers. She also assists people who wish to apply for regularization," said Anabai Talusan, a CFDT member.
Marites Legazpi, a domestic worker from the Middle East, escaped when she got the chance during her employers' trip to Switzerland. A fellow Filipino advised her to go to Paris and leave her abusive bosses.
"I work 18-20 hours a day for a salary of 150 dollars a month. Worst is, I suffered physical and verbal abuse from time to time. When I got the chance during one of their [employers'] travels in Europe, I fled," Legazpi said.
She suffered the same fate in Paris. There, she sought help from Cabais-Obra.
Cabais-Obra said most of the victims of modern-day slavery are domestic workers.
"It is crucial to have basic laws to protect the domestic workers. As long as there is an agreement between the employee and the employer, you are a professional. We need recognition. In the ratification of this international convention, we are asking the recognition, not only the protection, but the recognition of about 67 million domestic workers worldwide," Cabais-Obra added.
She further advised domestic workers, especially the new arrivals, to seek help from associations and know their rights.
A yellow book entitled "Gabay sa Migranteng Pilipino" is downloadable in ILO's website and available in English and Filipino text. "Domestic Workers Speak" is another book downloadable in pdf format, where domestic workers from across the globe shared their experiences so that others may learn from them.
(Source: ABS-CBN.com)