Pinoys Warned Against Illegal Gambling as Police Steps Up Patrol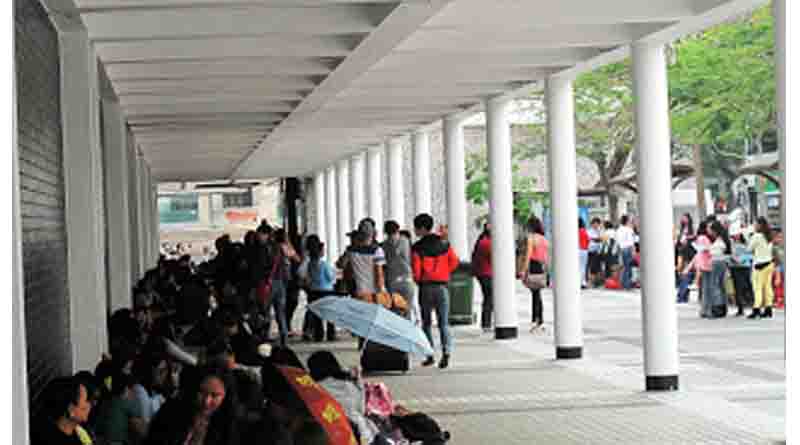 By Daisy CL Mandap
The Consulate is again warning Filipinos in Hong Kong against gambling in public, in the wake of recent reports of stepped-up police patrols in known black spots in Central.
On Aug 19, the police reportedly approached a group of Filipinos who were congregating in Chater Garden, under the flyover leading to United Centre where the Consulate is located, to warn them against gambling.
Danny Baldon, officer at the assistance to nationals section of the Consulate, said another group that appeared to play for high stakes on the footbridge above the same site, had already been told off by the police only recently.
"Kailangan siguro na maglabas na naman kami ng warning sa mga nagsusugal at baka mag-umpisa na namang manghuli ang mga pulis," Baldon said.
He acknowledged receiving a report just the other weekend of heavy betting among a group of Ilonggos near the City Hall in Central. According to the report, the gambling started on Saturday, Aug 11, and lasted until the next day, when more Filipino helpers took part because they were off work.
Those acting as bankers were reportedly two men, an Indian and a Filipino, who were also reportedly lending money on site to losing bettors so they would be encouraged to continue gambling even after using up all their cash.
Also known as favorite gambling areas among Filipinos are the HSBC Headquarters on Des Voeux Road, the parking lot beside St Joseph's church on Garden Road, and the area around the General Post Office in Edinburgh Place where the mostly male bettors engage in online horse racing.
Baldon said Filipinos should take care not to be caught gambling in public as they could be arrested, and in the process, lose their jobs.
Hong Kong laws provide a maximum sentence of nine months imprisonment and a maximum fine of $30,000 on anyone convicted of illegal gambling.
Just last year, the Hong Kong Police enlisted the help of the Filipino community in its effort to stamp out crime, including illegal gambling.
(Source: sunwebhk.com)