Police Evacuate Migrant Families from Paris Sidewalks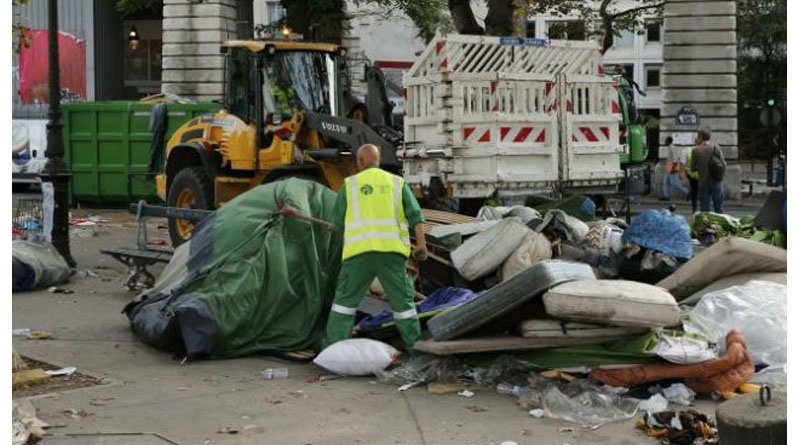 Image Caption: City workers remove tents and mattresses from an evacuated makeshift migrant camp near the metro stations of Jaures and Stalingrad in Paris, France, on Friday.  — Reuters
PARIS — Police and city officials on Friday evacuated more than 2,000 migrants who have been living on the streets of northern Paris for weeks, authorities said, the latest of a string of attempts to find solutions for Europe's migration crisis.
City Hall said two operations were carried out in the morning on a stretch of pavement near an elevated metro line not far from the Montmartre neighborhood. One operation focused on about 80 women and children in the makeshift camp, while the other focused on the men, according to a statement from City Hall.
Housing Minister Emmanuelle Cosse said 2,038 people, from Afghanistan, Sudan, Eritrea and elsewhere, were taken in by social services or taken to temporary facilities in the Paris region. A regional administration official said they are being bused to 74 sites around the Paris region where authorities will give them food and medical treatment and help those who are eligible for asylum.
Aid groups are given government money to house and care for the migrants, but conditions vary widely depending on where they end up.
Those who aren't eligible for asylum risk expulsion. Some migrants don't want to stay in France, and want to move on to Britain or elsewhere. The administrative head of the Paris region, Jean-François Carenco, told reporters that authorities can't help them.
"We cannot take charge of those who do not want to seek asylum in France. Either you want to be in France and you file for asylum or . you don't just come to France like that," he said.
Paris authorities have carried out several similar operations this year in the same area, most recently a month ago, but it remains a magnet for migrants. The mayor says several dozen migrants arrive every day and is planning a reception center for them nearby.
France has come under criticism for its handling of Europe's migrant crisis, notably for allowing thousands to live in squalid conditions in a camp in the northern city of Calais.
A migrant was killed in a hit-and-run accident Friday on a road leading to the Calais port, according to the regional administration. It was the 12th migrant killed in the Calais area this year. — AP
(Source: SaudiGazette.com.sa)