Raffy Tulfo seeks review of PH, Kuwaiti accord on OFW deployment amid Ranara death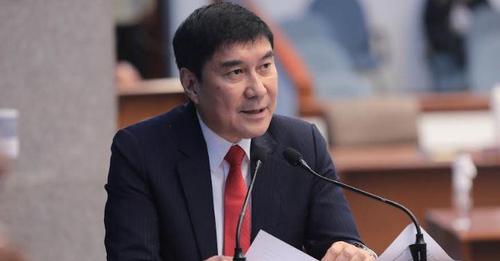 Senator Raffy Tulfo on Monday filed a resolution seeking an inquiry into the existing bilateral agreement between the Philippine and Kuwaiti governments on the deployment of overseas Filipino workers (OFW).
"[D]irect the appropriate Senate committee to conduct an inquiry in aid of legislation, to revisit, re-examine, and review the existing Bilateral Agreement and Standard Employment Contract governing OFWs in Kuwait, with the end view of establishing stricter policies, preventive measures and applicable sanctions or ban in the deployment of OFWs in Kuwait," proposed Senate Resolution 448 read.
In filing the resolution, Tulfo mentioned the death of Filipina overseas worker Jullebee Ranara who was allegedly murdered and burned and whose body was thrown in the desert.
"This is not the first time that a tragedy of such nature involving our Filipina domestic workers happened in the Gulf State," he said.
In 2018, the Philippine government imposed a ban on the deployment of OFWs to Kuwait following the death of Joanna Demafelis but it was partially lifted in May of the same year.
Tulfo said another ban was imposed after Jeanelyn Villavende's death but it was lifted in February 2020.
"The lifting of the deployment ban in 2020 was premised on the adoption of a more harmonized Standard Employment Contract for Filipino OFWs in Kuwait, which was agreed upon and signed by the Philippine and Kuwait governments, and with terms and conditions purportedly for the added protection and welfare of our OFWs," the senator said.
"Despite the aforesaid lifting of the deployment ban to Kuwait and the use and enforcement of a new Standard Employment Contract, tragedies such as those Joanna, Jeanelyn and now, [Jullebee's], remain a perplexing reality," he added.
Over the weekend, Tulfo pushed for a total deployment ban to Kuwait.
In a press conference Monday, Tulfo clarified that he is only seeking a ban on the deployment of OFWs who are first-timers in Kuwait.
Further, Tulfo said the Kuwaiti government must issue a public apology over the deaths of OFWs in their country.
He insisted the need for a public apology despite Kuwait Minister of Foreign Affairs Sheikh Salem Abdullah Al-Jaber Al-Sabah's statement saying that the the actions of the suspect do not reflect the character and values of Kuwaiti society, the Kuwaiti people, and the Kuwaiti government.
"That is not a public apology. 'Yan ay kinokondena lang ang action ng kanilang citizen (That [statement] just condemns the action of their citizen.) That's different from [a] public apology, saying na 'We are very sorry that this happened and we will do our best that this will not happen again.' Nagmamataas pa e (They are not being humble)," Tulfo said.
"Public apology, why? Kasi paulit-ulit na lang e (because it keeps happening again and again)," he added. —AOL/KG, GMA Integrated News
Source: Raffy Tulfo seeks review of PH, Kuwaiti accord on OFW deployment amid Ranara death | GMA News Online (gmanetwork.com)