Regine Velasquez-Alcasid, Stars Visit Distressed Filipinos in UAE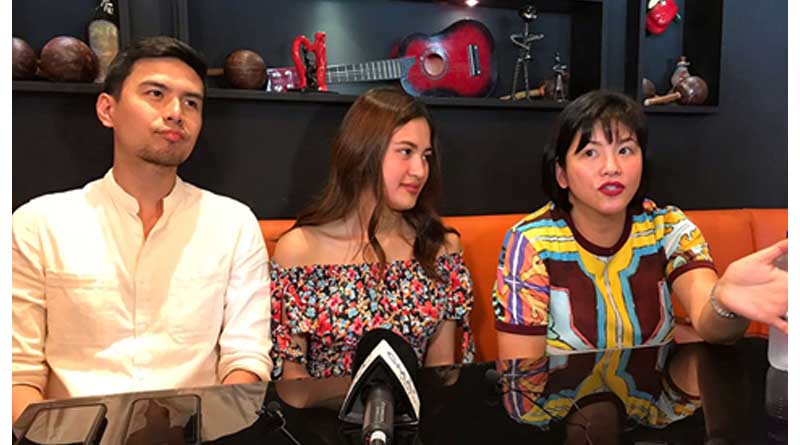 Regine Velasquez-Alcasid (right), Christian Bautista (left) and Julie Anne San Jose (centre) in Dubai.
Image Credit:Irish Eden Belleza/Gulf News
Dubai: Three of the biggest names in the Philippine music scene took a detour from the usual glitzy and glamorous socials to visit some of their more unfortunate compatriots during a recent trip to Dubai.
Regine Velasquez-Alcasid, Christian Bautista and Julie Anne San Jose led their retinue of followers and assistants in a meet and greet session with distressed Filipino women at a facility run by the Philippine Overseas Labour Office and the Overseas Workers Welfare Administration. Most of the women have encountered difficulties because of finances, employment and other misfortunes.

The music industry icons said the experience gave them a different perspective about overseas Filipino workers (OFWs), who are fondly referred to as "modern heroes" in the Philippines because of the huge amount of remittances they collectively send to the country. In the first quarter this year, remittances through banks from OWFs in the UAE alone had reached $580.39 million (Dh2.1 billion), according to the Bangko Sentral ng Pilipinas (BSP), a 1.3 per cent increase compared with the same period last year.
"Syempre, medyo mahirap (It's not easy) when you see Filipinos asking for help whatever the case is," Bautista tells Gulf News #Pinoy. "Being artists, what we can do in that moment that we are with them for a few minutes is to make them feel loved, happy and to encourage them that the government is doing its best to bring them home. We feel for them, we prayed for them."
While it was an eye-opener for the singers about the risks and challenges of working away from one's family in a foreign land, their impromptu performance drew broad smiles and cheers from the women.


"It was a very heartwarming experience. We are here to support," said San Jose. "What we can do for now is to make them happy through entertainment. It was a wonderful experience."

The encounter with the women also served as an eye-opener for Velasquez-Alcasid, regarded as "Asia's songbird", who delivered a moving performance of her hit song, Shine, and even shared the microphone with one of the women as the crowd sang along.

"It feels different," says the 48-year-old Velasquez-Alcasid in describing the experience. "It's a different meaning."
Message to OFWs
Velasquez-Alcasid, who has performed in a few concerts in Dubai, shares a common passion that she sees in most OFWs: working hard for the family.
"My family has enjoyed a comfortable life because I was given this wonderful talent. I used it to help my family," says Velasquez-Alcasid. "This is such a gift for me. First of all, I was able to help my family doing what I do. This is who I am."
Velasquez-Alcasid, who was in Dubai with Bautista and San Jose to headline the recent 3 Stars 1 Heart Dubai concert at the Dubai World Trade Centre, also shared with #Pinoy her motivations as an artist who has been in the industry for more than three decades.

"I love to sing and this is who I am, I'm a singer," she said. "Once in a while, you'll get that point that you will get tired. There's not very much privacy, but still there's nothing that I hate about it. I am just grateful that I was chosen to be in this industry. I was given this wonderful talent by God."

She added: "I'm just very thankful that I'm still here. I'm still singing. I'm still working and people are still somehow excited to see me. Excited to hear my songs, to hear me sing live."

She also talked about the dangers of stress and how she deals with it at work.

"In whatever field you are doing, stress is always present. But if you love what you do, it makes it a little bit easier," she said. "The key there is loving what you do, whatever it is. There are times that we get tired. We are humans and stress is always there and I don't think you can avoid that. The best thing is to love what you do, then all the stress, all the hard work won't matter so much."
(Source: gulfnews.com)