Saudis Trading Filipino Maids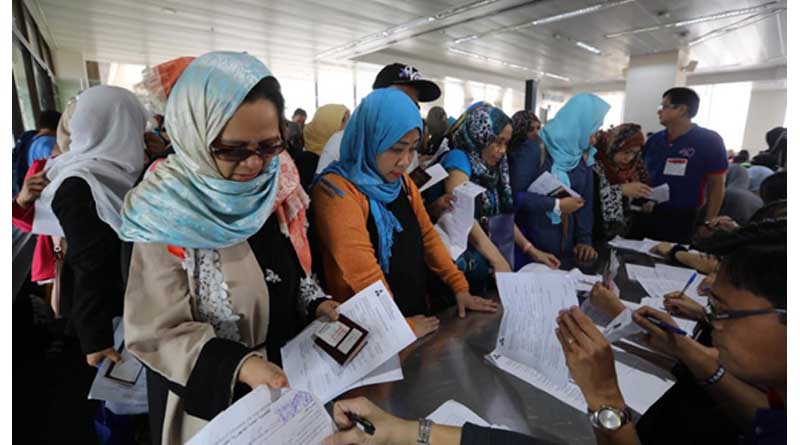 Image Caption: FINALLY HOME Undocumented Filipino workers arrive in Manila from Saudi Arabia in this photo taken last year. —PNA PHOTO
By: Melvin Gascon
TUGUEGARAO CITY — Filipino migrant workers in Saudi Arabia are calling on the government to stop employers there from trading their maids among themselves.
Filipinos based in Riyadh, Dammam and Jeddah denounced the practice in online messages.
"We hope the government will take drastic measures to stop this. This has been going on for many years already and it has led to the abuse and exploitation of many [Filipino women]," said Angel (not her real name), who is based in the Saudi Arabian capital of Riyadh.
Angel said migrant workers were auctioned off to families needing maids legally deployed to the oil-rich kingdom by Philippine labor recruitment agencies.
"Usually one can see the motive of employers who show great interest in hiring [maids] by offering higher prices—they usually make sexual advances to the women," Angel said.
Maids are moved from one employer to another, depending on who makes the highest offer and where employers make the most profit, she said.
No contracts
The job transfers are not covered by contracts, leaving the maids vulnerable to abuse, she said.
Employers withhold the maids' passports and "iqama," or work visa, she said.
"I feared for my life, especially when I learned that I had been sold to another employer for 24,000 rials," Angel said.
She said she escaped from her employer last week, on the night she was supposed to be moved to Dammam after she was sold to another employer for a higher price.
She was rescued and sheltered by a fellow migrant worker whom she met online, she said.
Angel said she knew many other victims of the practice.
Another victim
Another maid in Dammam was reportedly traded by her employer after her "asking price" ballooned to 28,000 rials.
Janet (not her real name) was reportedly sold twice to different employers after she complained that her original employer was making sexual advances to her and had attempted to break into her room.
Sought for comment, officials of the Overseas Workers Welfare Administration (Owwa) said they, too, had received numerous complaints.
"We are also trying to validate those cases because indeed, this is the same account of [Filipino workers] who have asked assistance from the Owwa post in Saudi [Arabia]," said Ma. Elvira Ador, Owwa director for overseas operations coordination service.
Ador urged migrant workers who had been sold to immediately seek Owwa's help at the agency's nearest overseas post.
(Source: Inquirer.net)