Taxi Commuters Decry Govt's Decision to Hike Prices of Fuel – New Fuel Prices Will Not Affect Other Commodities: Al-Rasheedi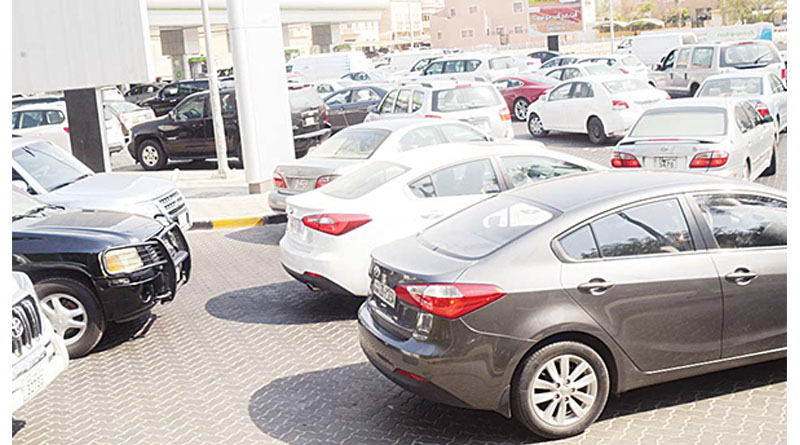 Motorists on Aug 31 rushed to the petrol pumps across the country to fill their car tanks in view of the govt's decision to hike the prices of fuel from Sept 1.
KUWAIT CITY, Sept 1: Some expatriates, who use taxis as a mode of transportation, have expressed disappointment over the decision of the government to increase the prices of fuel stressing that it will result in higher taxi fares. Meanwhile, many citizens said the new fuel prices will affect them as much as the expatriates.
In an interview with the daily, Abdu Ferjani pointed out the new taxi fares will negatively affect the poor expatiates who have no other way to reach their workplaces but by riding a taxi. Ali Saber said he used to take the bus because his salary is KD 180 asserting he cannot buy a car.
He lamented the increase in the prices of bus tickets will be an added burden for him. Rezq Jamal stressed taxi fare will increase from 50 fils per one kilometer to 150 fils in addition to 50 fils for each minute of waiting. He said the route from Farwaniya to Kuwait City usually takes one hour especially during rush hours, so this means the cost of the ride will be about KD 4.
Salem Bu Hamad, a citizen, indicated that the taxi fare increase will encourage some people to use private cars as taxi to earn more money, stressing this will affect the taxi drivers badly. Another citizen, Bu Nasser, said the limited income earners will suffer the brunt of the taxi fare increase especially if there is traffic jam. He suggested that before raising prices, the government should solve the traffic problem.
Om Sana disclosed she is a teacher receiving a salary of KD 190 per month and she lives in an area where no buses pass by, so she has no choice but to take a taxi. She said she used to pay about KD 60 per month for transportation and with the increase she will have to pay about KD 90 per month; hence, half of her salary will be spent on taxi rides.
Hammam Soud, a taxi driver, revealed he has to pay KD 10 per day to the taxi office; pointing out that he works everyday from early morning till 10:00 pm in order to have KD 5 for himself. He said the new prices of fuel will prompt the taxi drivers to increase fares. He added most taxi drivers do not use the meter as they usually agree with the customers on the charges. He explained medium and short taxi rides cost about KD 1.500 but with the new prices of fuel, the fare will be about KD 2.500. He went on to say the fare from Hawally to Kuwait City will range from KD 3.000 to KD 4.500 considering the traffic situation in those areas.
Prices
Meanwhile, Assistant Undersecretary for Commercial Compliance and Consumer Protection at Ministry of Commerce and Industry Eid Al-Rasheedi affirmed that the new prices of fuel will not affect the prices and charges of other commodities and services, reports Al-Qabas daily.
Meanwhile, Ministry of Finance has reduced the prices of diesel and kerosene from 100 fils per liter to 95 fils respectively. Automobile experts advised owners of vehicles to not change the type of fuel that they use in their vehicles without consulting the agencies or reading the manual issued by the manufacturer.
They indicated that changing the type of fuel may lead to serious problems in the engine of the vehicle, revealing that popping sounds from the valves means that the fuel type must be changed.
The experts explained that high rotation engines and those with multiple fuel injectors require fuel of 95 octane while small medium and old cars need fuel of 91 octane. Octane is the unit that identifies the ability of the fuel to resist early combustion. Al-Soor Fuel Marketing Company and Oula Company are not privy to the mechanism of fixing the change in gasoline prices, covering premium, super and ultra, reports Al-Jarida daily quoting a reliable source.
The same source noted the companies have yet to be briefed on whether the prices will be fixed just once to remain stable for a long time as observed in 1990s or prices will be reviewed periodically similar to the way diesel and kerosene were priced in January 2015. He stressed "it'll be better for gasoline prices to stabilize, but recommendations will be made in case changes are to be reviewed periodically". He pointed out that monthly or quarterly review may yield problems since the companies will be exposed to losses.
He noted decision remains vague or inadequate until now, indicating the choice of the Council of Ministers to review fuel prices every three months is still not clear. He explained the decision did not clarify whether reviewing of prices will be upward, downward or cancelled, as it will expose about 1,500-1,700 pumps across the country to closure for almost 1-3 hours at the end of each month.
Regarding possible litigation in case of losses, the source pointed to protocol for notifying the supervisory authority at Kuwait Petroleum Corporation (KPC) for that purpose. He expected fuel stations will incur losses from gasoline products and reiterated "no company in the world will keep silent while incurring losses in the revenues".
By Najeh Bilal Al-Seyassah Staff and Agencies
(Source: ArabTimesOnline.com)