World Leaders to Address Refugee Crisis at 71st UN General Assembly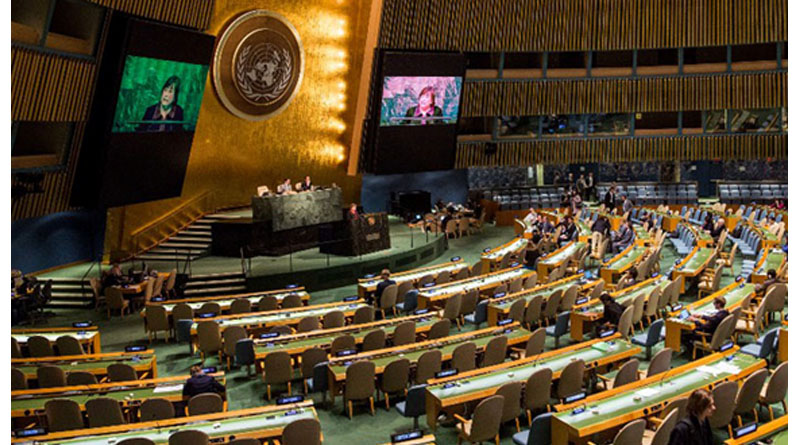 Image Caption: MB FILE – The United Nations General Assembly holds a meeting reviewing the implementation of the outcomes of the World Summit on the Information Society. (Andrew Burton/Getty Images/AFP) | mb.com.ph
by Philippines News Agency

UNITED NATIONS — World leaders will tackle major global issues, particularly the refugee and migration crisis, at the 71st session of the United Nations General Assembly that begins Tuesday at the UN headquarters in New York.
This iteration of the General Assembly will last through September 2017. Its chairman will be Peter Thomson, Fiji's permanent UN representative, who will replace Mogens Lykketoft of Denmark.
The tentative agenda for the new session consists of 170 items focused on international peace and security, economic growth and sustainable development, disarmament, drug control, coordination of humanitarian assistance and other topics.
Per tradition, heads of state and government are scheduled to meet for the General Assembly's annual debate, which begins September 20 and lasts a week. The theme of this year's debate is "Sustainable Development Goals: A Universal Push to Transform Our World."
According to Kremlin spokesman Dmitry Peskov, Russian President Vladimir Putin does not plan to participate in this year's general debate. Russia will be represented during the General Assembly by Foreign Minister Sergei Lavrov.
Alongside the General Assembly, the UN Summit for Refugees and Migrants will take place on September 19. Participants of this high-level meeting will addresses issues tied to the mass movement of people affected by wars and humanitarian crises, with the aim of encouraging countries to develop a more coordinated approach to the problem.
The summit presents "a historic opportunity to agree a global compact, with a commitment towards collective action and greater shared responsibility for refugees at its core" UN Secretary-General Ban Ki-moon said on World Refugee Day in June.
The following day, September 20, on the sidelines of the General Assembly, US President Barack Obama will host the Leaders' Summit on Refugees. His co-hosts will be government representatives from Canada, Ethiopia, Germany, Jordan, Mexico and Sweden.
The Leaders' Summit will call on governments worldwide to pledge significant new assistance to refugees. Its sole focus will be refugees, whereas the previous day's UN-organized High-Level Summit will address the mass movement of both refugees and migrants.
"The United States is determined to find solutions," US Secretary of State John Kerry said in a statement. He said Obama, as the Leaders' Summit host, would be "asking nations to make concrete commitments toward expanding the humanitarian safety net and creating more long-term, durable opportunities for refugees."
On September 21, heads of state and government are to participate in a high-level General Assembly meeting on antimicrobial resistance. This gathering is intended to underscore the severity and breadth of the problem posed by drug-resistant bacteria and viruses, and to encourage the development of innovative solutions.
The United Nations also faces the challenge of appointing a successor to Ban, whose term as secretary-general expires on December 31.
Before a nomination is officially announced, the UN Security Council is expected to conduct a series of straw polls to determine support for each candidate. The next rounds of straw polling are set for September 26 and the first week of October and will be presided over by Russia's UN ambassador, Vitaly Churkin.
Candidates for secretary-general include Irina Bokova, head of the UN Educational, Scientific and Cultural Organization; Helen Clark, former prime minister of New Zealand; Antonio Guterres, former prime minister of Portugal; and others.
(Source: MB.com.ph)