WWII Vet Keeps Up Fight for Equity Pay, Says 'I Have Records!'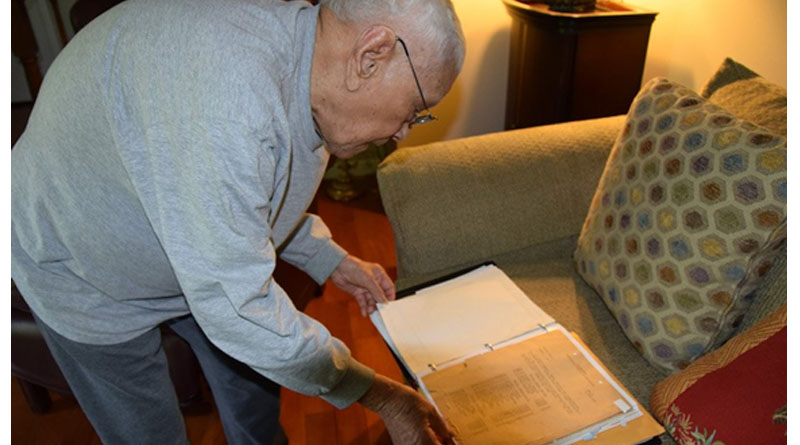 By: Emil Guillermo
SILVER SPRING, Maryland– On June 8, Filipino WWII Vet Celestino Almeda officially turns 100, and every day he's ready for a fight.
If you think the issue of Filipino WWII veterans' equity pay was over, you are sadly mistaken.
For Almeda, it has practically become his personal Bataan Death March. Only this time it's against the U.S. bureaucracy.
Almeda is one of the last of the living vets appealing for his rights to equity pay.
In 2009, President Obama finally kept the promise of pay and benefits to the vets who were denied what was due them by the Rescission Act of 1946.
Nearly 20,000 veterans have been granted more than $220 million.
The payouts were in a lump sum payment of $15,000 to Filipino veterans living in the U.S., and $9,000 for those still in the Philippines
But the VA has also rejected close to 24,000 cases.
There's about $56 million left in the pot. But that doesn't mean the VA is willingly giving it out, at least not to Almeda.
When I visited Almeda last month, he told the INQUIRER podcast that he keeps fighting because he has all the documents that show he was in the United States Armed Forces of the Far East as a member of the Philippine Army.
He believes his still battling because the U.S. "cannot admit it made mistakes."
The denial may be due to Almeda being linked to a particular commanding officer who was under investigation. U.S. Army declassified documents show that there was broad concern over the practice of selling military paperwork to Filipinos, thus inflating the number who could claim to be guerrillas.
But Almeda said he made his application for equity pay not as a guerrilla but as a member of the USAFFE. He has no doubt he served.
"I gambled my youthful years in service to my country, which was a territory of the United States," Almeda said.
In the podcast, he recalls his first day of service, and how he attempted to recruit guerrillas unsuccessfully. Almeda describes what life was like in a Japanese-occupied Manila during WWII.
He doesn't forget.
Almeda says the appeal is still on. His documents have actually been good enough to grant him citizenship in 1990. And he was even able to obtain a VA medical card, as well.
But he doesn't want to give up the fight for the lump sum, even though he admits, it's not about the money.
"What is $15,000 these days nothing. And yet the Veterans Administration make it so hard to for me to be recognized. And I was thinking, is America really to stingy to release $15,000 to an old man who has served? I don't know…I've done my part."
Hear more in this exclusive Emil Guillermo Media/Philippine Inquirer podcast.
Inquirer USA columnist Emil Guillermo is an award-winning journalist and commentator based in California. Contact him at www.amok.com.
(Source: Inquirer.net)