Back I program brought joy to OFWs in Hong Kong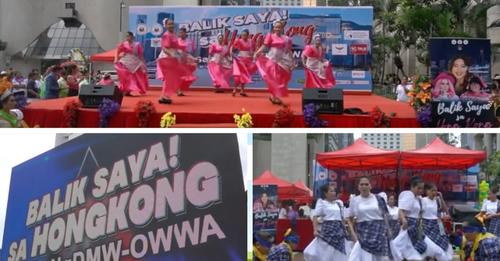 HONG KONG – Chater Road Central in Hong Kong has been filled with fun and colour with the re-run of the Balik Saya program.
Many people are excited about this because it has been unfinished for three years due to the pandemic. It is also an opportunity to re-establish the culture of the Philippines.
"If they don't do anything important, they can make a group to participate in these events. To showcase the beautiful traditions in the area, they can showcase their talent," said OFW Jeany Escano Nisa.
The parade mala Flores de Mayo is also timely, reminiscing about the beautiful tradition in the Philippines.
"We need to be strong… We are healthy and we are good enough to see our children, our families. That we are healthy and good here in Hong Kong that we do not have any diseases and here we have to love ourselves, also let's not be stressed by everything that is happening here in our world," said Juanita Warrey, also an OFW.
Even though it was raining, OWWA Administrator Arnell Ignacio was also very happy. Some of them joined the dance line to show unity and relieve the sadness of our countrymen. 
Source: Balik Saya program nagdala ng tuwa sa OFWs sa HK  | ABS-CBN News