Employers of Indo DH shouldn't pay more, labour chief says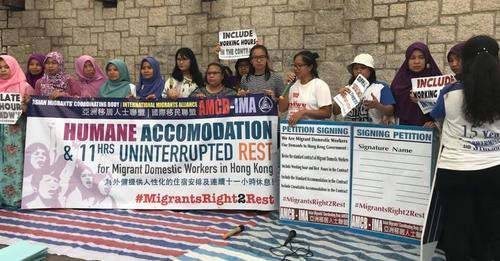 Ask for more and we will consider hiring foreign domestic helpers elsewhere.
This seemed to be the message of Secretary for Labour Chris Sun when asked for his reaction to the reported plan of Indonesia to pass on to employers all fees incurred in hiring its FDWs.
Sun said Hong Kong employers of Indonesian helpers should not be asked to pay more.
He also said the SAR government has repeatedly told Indonesian authorities not to let any changes in its domestic workers policy burden local employers or reduce the Indonesian helpers' employment opportunities in Hong Kong.
Sun said he would meet with the Indonesian consul general to Hong Kong to hopefully resolve the matter.
"We hope that the Indonesian side can find a proper solution," he said.
At the same time, he said Hong Kong has been actively looking for new source countries of FDWs, and will soon meet with officials of Cambodia and Bangladesh in this regard.
However, this is not the first time Hong Kong has tapped the two Southeast Asian countries to fill its growing demand for domestic workers, especially caregivers. But its previous attempts were not so successful as the workers' religious practices served as hindrance.
By to an Indonesian recruiters delegation that visited Hong Kong recently, the plan is to enforce a no-placement fee policy towards it migrant workers, and pass on all the recruitment costs to employers, including training and medical examination fees.
The new regulation is bound to affect nearly half of all employers in Hong Kong, as 41% of all of the city's 338,000 domestic helpers are from Indonesia.
Indonesian domestic workers are themselves not impressed with the plan to step up the implementation of the zero-placement fee policy. Despite the scheme being announced by their government in 2020, it has failed to provide them relief from the steep fees charged them by agents.
A group organized by JBM, a network of Indonesian migrant workers, is set to stage a protest outside the Indonesian consulate this Sunday to denounce the failure of their government to protect them from having to pay illegal fees to Agents.
"The zero agency fee rule is ideal on paper, but is impractical in reality, said a statement from the JBM.
Currently, Indonesian migrant workers are still charged between $12,000 to $20,000 in recruitment fees, despite the new rule being passed over the pandemic, said the group.
"If the IMWs (Indonesian migrant worker) experience layoffs, they can be charged a new fee of $4,000-$6,000," said JBM.
The group also pointed out that although the Philippines has long touted a no-placement fee policy for its workers in Hong Kong, they are still charged by agents between $5,000 to $8,000 before they can leave the country.
Source: The SUN HK : Employers of Indo DH shouldn't pay more, labour chief says (sunwebhk.com)