Still no Filipinos reported affected by Libya flood —DMW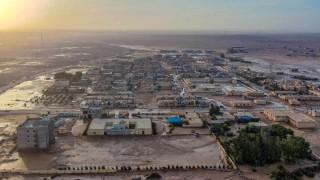 The Department of Migrant Workers (DMW) said Wednesday that it still has not yet received any reports of Filipinos affected by the flooding in Libya following a huge storm there.
Interviewed on ANC, DMW officer-in-charge Hans Cacdac explained that the catastrophic floods happened in the city of Derna, which is in the eastern part of Libya and near the border to Egypt.
"Most of the Filipinos in Libya are on the western side, the Tripoli side," he said.
Storm Daniel caused severe flooding, swept away buildings, and wiped out one-fourth of the eastern city of Derna on Tuesday, according to Reuters.
At least 10,000 are missing, while more than 2,000 are feared dead.
"We commiserate with the Libyan people, and at the same time hope that no Filipinos… will be affected or are affected by this flooding," Cacdac said.
The DMW officer-in-charge said authorities will continue to monitor the situation of the Filipinos in Libya, and stand ready to help in case anyone is in need.
According to the Philippine Embassy in Tripoli, there are around 1,100 Filipinos in eastern Libya.
The Embassy said 90 Filipinos are residing in the areas badly hit by Storm Daniel, including 30 from the district of Dema, 50 from al Akhmatova, and 10 in Tobruk.
Most of the Filipinos in these areas are mostly nurses and clinical instructors..
The Philippine Embassy in Tripoli urged Filipinos needing assistance to contact the embassy via any of the following:
ATN Hotline: 0944541283 (WhatsApp/Viber)
Email: tripoli.pe@dfa.gov.ph
Facebook: https://www.facebook.com/PHinLibya
—with Michaela del Callar/ VAL, GMA Integrated News
Source: Still no Filipinos reported affected by Libya flood —DMW | GMA News Online (gmanetwork.com)