DFA Undersecretary Abella Meets with Filipinos in Turkey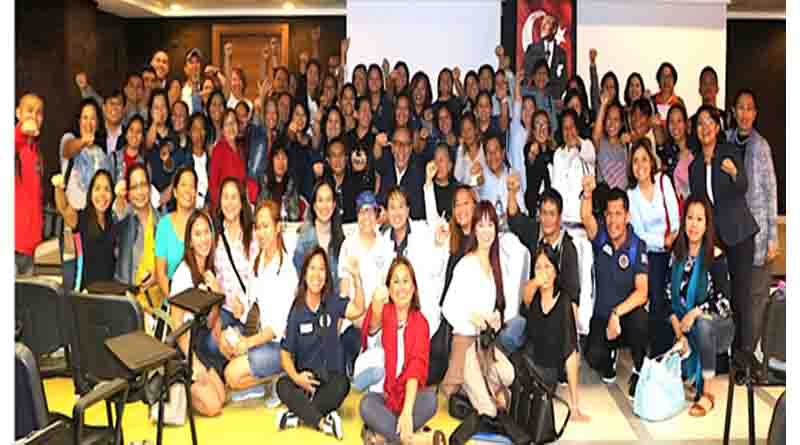 Image Caption: Filipinos in Turkey pose for a photo after the meeting with the Department of Foreign Affairs and Department of Labor and Employment officials led by Foreign Affairs Undersecretary for Strategic Communications Ernesto C. Abella held on 12 September 2018 in Istanbul. (Ankara PE photo)
ANKARA 24 September 2018 —Foreign Affairs Undersecretary for Strategic Communications Ernesto C. Abella conveyed President Rodrigo Duterte's deep concern for overseas Filipino workers and the Duterte Administration's strong programs for the protection of their rights and promotion of their welfare with the Filipino Community in Turkey on 12 September 2018 in Istanbul.
During his frank and candid discussion with the community, he emphasized the whole of government approach as represented by the Philippine Embassy in Turkey and the presence of agencies such as Philippine Overseas Employment Administration (POEA) and Workers Welfare Administration (OWWA).
Embassy officials led by Ambassador Maria Rowena Mendoza Sanchez, POEA Deputy Administrator Villamor Ventura S. Plan, OWWA Director for Fund and Investment Management Vivian F. Tornea, Labor Attaché Violet Illescas and Welfare Officer Neil Allan Baban also attended the event.
With over 100 Filipinos present and viewed by more than 4,000 Filipinos in Turkey and other countries on Facebook live, the meeting gave the opportunity for Philippine officials to respond fully to OFWs' concerns and inform them of the results of the first inter-agency bilateral consultation between the Philippines and Turkey on the situation of Filipino household service workers held on 11 September 2018 at the Ministry of Foreign Affairs of Turkey in Ankara.
Among the pressing issues and concerns tackled at the bilateral consultations were the irregular practices of Turkish intermediaries and Philippine recruitment agencies, POEA procedures and the recent decline of the Turkish lira and the actions of employers and Turkish intermediaries. The government officials and those present committed to work together for solutions to the issues confronting OFWs in Turkey, with the cooperation of host government officials. END
(Source: dfa.gov.ph)