First Fil-Am Judge in Cook County, Illinois Broke Many Barriers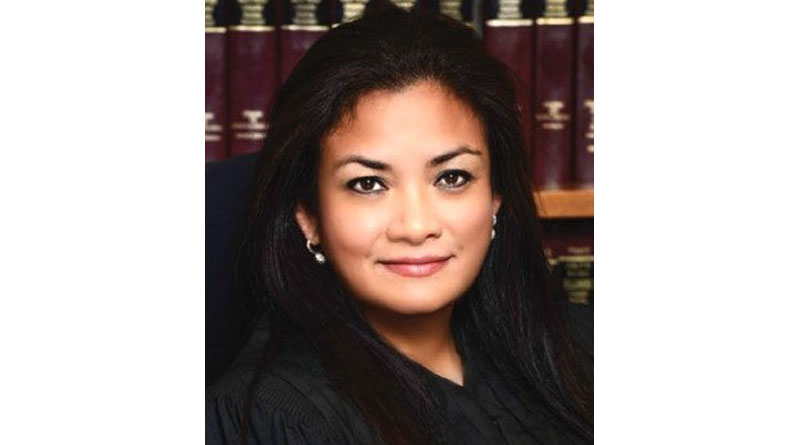 Judge Jessica Arong O'Brien. AJ PRESS
By: Klarize Medenilla
@inquirerdotnet
Asian Journal / INQUIRER.net News Partner
CHICAGO — Jessica A. O'Brien broke many barriers on her journey to becoming the first Filipina American judge in the Circuit Court of Cook County in 2012. Before that, at John Marshall Law School, she was the first student to graduate with a J.D./L.L.M joint degree in tax law. Most recently, O'Brien became the first Asian American woman to become president of the Women's Bar Association of Illinois (WBAI), an organization that has been around for over 100 years.
But the first time she ever saw a courtroom was as an acting litigator working for a mid-size firm. She usually handled the transactional side, but one day she was asked to do some litigation, the process of bringing a civil case to either a trial or resolution.
She was understandably nervous.
"I get to court, and prepare to read my speech the attorneys told me to read, but the judge never looked at me!" O'Brien recalled during a recent interview with the Asian Journal.
"This was the first time I'd ever been in court since I graduated from law school. I got so prepared and was so nervous, but not once did the judge ever look at me. He said some things to the other attorneys, and it was done. I never got to say anything."
That experience — among others — laid the foundation for O'Brien's eventual return to the courtroom, this time, as a circuit court judge for Cook County in Illinois, the second-most populous county in the U.S. after Los Angeles County.
Four years in, she enjoys all aspects of running a small claims courtroom; she even writes most of her own opinions simply because she likes to be thorough.
But her journey to that position took several twists and turns.
No direction
O'Brien, born Jessica Arong in Cebu City in 1968, didn't have any set aspirations during her childhood, much less picture herself as a judge in a small claims court in the United States.
She had a comfortable upbringing, growing up in San Vicente Village, a quiet town in Mandaue City, Cebu. One of the defining moments of her life was when she got held back in third grade for skipping class too often, saying she did so because she felt "intimidated" by the other students. But the stigma associated with being held back made her insecure about her intelligence.
"I would tell my grandma I didn't want to go to school, and she would just let me. But it ended up doing more harm than good," O'Brien said with a laugh.
Coming to the United States wasn't something she wanted to do; but after high school, her mother insisted that she immigrate. In retrospect, she's relieved she followed her mother's wishes.
"The best thing that ever happened to me was coming to the U.S. because before that, I never had any direction," O'Brien said, adding that she didn't have much guidance growing up.
Lessons in relationship-building
Upon coming to the U.S., she enrolled in community college. Because of her high school grades, she was placed in remedial courses, which didn't do much for her morale; but she pushed through. She then got accepted to Boston University, completing her bachelor's of science in hotel and food management.
"I thought [hotel and food management] was complimentary to my personality. I believe in building relationships and, in fact, I think most Filipinos are great at relationship-building," O'Brien said.
She began working at Caesars in Atlantic City, New Jersey, but shortly after, she began a semester studying culinary arts at Le Cordon Bleu in London, an experience she will never forget.
"It was much harder than law school," O'Brien said.
She likened the experience to military training, where the teachers would tear down the students to encourage them to do better. The teachers yelled at her and would disparage her; she cried every day, she recalled.
"People need confidence to do what they're doing," she said. "You need to be careful with what you say to people because it affects them. But I can say that my experience in the culinary arts prepared me for law school."
After Le Cordon Bleu, O'Brien returned to a previous position at Caesars in Atlantic City. In six years, she worked her way up the ladder to become responsible for over 1,000 employees and management. But she felt like she needed to leave Atlantic City, and she told her mother that she wanted to go to law school.
Going to law school
So she did. Shortly after, she began her studies at John Marshall Law School in Chicago. In the middle of her studies, when she got pregnant with her first child, she began to excel because she "felt like I had a reason to do well in life."
She became the first student to graduate with the J.D./L.L.M joint degree in 1998.
After passing the bar exam she worked for a mid-size firm, where she encountered the judge that ignored her. After that fateful event came another. As she left the courtroom, she miraculously ran into an old college friend who offered her a job at the Department of Revenue in Chicago.
She served as a special assistant attorney general, litigating cases involving corporate, partnership and individual income and sales taxation.
Then came a vacancy in the circuit court in 2010. The only Asian American judge on the bench and O'Brien's mentor, Sandra Otaka, passed away in 2009, and the Illinois Supreme Court had put a non-Asian as her replacement, much to the dismay of the Asian American community.
O'Brien, however, did not agree with that sentiment, arguing that there were no Asian American candidates who were submitted as applications to be vetted.
"I am a big advocate for diversity. I think it's important, but at the same time, I also believe that it has to be based on qualifications," O'Brien said.
This inspired O'Brien to take action and to prove her qualifications. In 2010, she made a last-minute decision to run for that vacant position, five days before Election Day. She ended up not getting enough signatures and never made the ballot.
"I don't know why I did it, but I did it," she laughed, calling the decision to run that first time "stupid."
Second time's a charm
But come the 2012 election, O'Brien was more prepared. Although she didn't get slated by the Democratic Party — since she had ran against their opponent for signatures in 2010 — she gave it her all.
Despite running without the official support of the party, O'Brien, one-by-one handpicked her committee to generate support for her campaign. She gained the support of two powerful politicians who got her "perfect," uncompromised door-to-door signatures to put her on the ballot.
Again, relationship-building was key in her campaign strategy. She personally met with as many groups as possible including the African American, Latino/Hispanic and the LGBT communities as well as organizations like labor groups. She even went the extra mile to reach out to groups in her opponents' hometowns.
"It was important to me that every single group heard from me and understood where I was coming from," she said, adding that honesty and humility helped win over many groups.
She won by a large margin, and with that win, she had a feeling of redemption. She was running against candidates that had been slated by the Democratic Party, meaning she had to garner support on her own. She described it as "working against the machine," and when she won she felt that she'd proven all the naysayers wrong.
But most importantly, she felt that it was a win for the team and not just for her, and that's what made it special for her.
"It's hard to explain," she said of her feelings after she won. "You start to think, you didn't do it alone. You did it with so many people. You know you brought all these people to help you, but really you know, too, you could never have won without them. It's almost like it's their accomplishment. That's what made me happy because they were so proud of it and it felt like I was making them happy because they have this accomplishment where they can say, 'I ran this campaign.'"
A courtroom of her very own
Today, O'Brien runs her courtroom with the grace of her long-lived value of relationship-building. She takes pride in what she does, but will not sacrifice being cordial, citing her experience working in the hotel industry.
"I look at my position as an opportunity to be a part of the system that works," O'Brien said. "I go back to that first experience in the courtroom when that judge didn't look at me. When you come into my court, I will always say 'good morning, how are you doing?' to you. Because I come from the hotel industry, where customer service is most important, I view the courtroom as the customer service of the judiciary, and I am the head of that customer service."
She said she didn't want people to experience all the negative things she'd experience in the courtroom. Kindness is key in her approach. She realizes that many can take advantage of that, but she makes it very clear that you'll never get away with it.
"I can be very kind, but I'm also very thorough and very detailed. They soon realize that they can't just shortcut things with me because I will notice it," she said.
Representation matters
When she was elected the first Asian American president of the WBAI, it was momentous. It was an important barrier to break, but O'Brien chooses not to see the novelty of it. She knows that she worked hard for that position, and the WBAI wasn't trying to fill a quota.
Diversity is important, she says, but she makes it a point that Asian Americans everywhere, in every enterprise, should create pathways to all industries for the next wave of Asian Americans.
"We as a group need to prepare the next generation," O'Brien said. "If it's true that Asian Americans are going to bypass all other ethnic groups [by 2040], then what are we doing as a group to hold the power, to be influential? And we've got to be cohesive, and we're just not."
To women of color and immigrants aspiring to make their mark on the world, O'Brien offers this advice:
"You have to really want it, and you have to have a passion for it because you are going to need that to withstand a number of challenges along the way. It shouldn't be that way but it's going to be that way for a while. But if you want to contribute to the betterment of our group, you need to do your part."
(Source: Inquirer.net)