Journey of Atonement Begins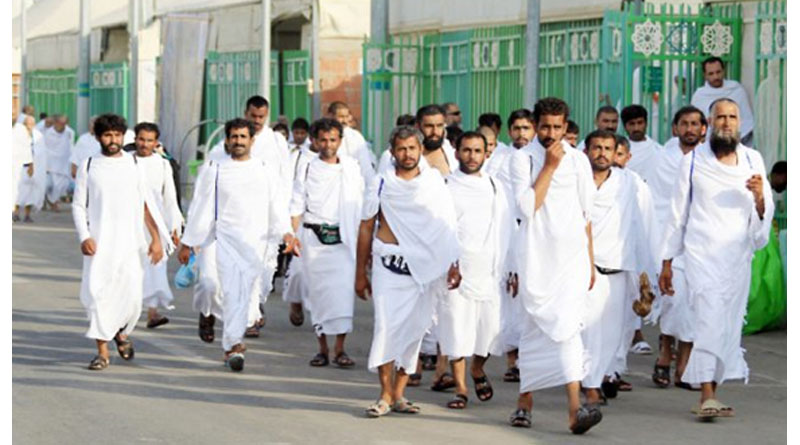 Image Caption: Pilgrims arrive in the tent city of Mina on Saturday as the five-day Haj begins. — SPA
By Badea Abu Al-Naja
Saudi Gazette
MINA — The valley of Mina reverberated with Talbiya, an invocation by pilgrims as a conviction that they intend to perform Haj only for the glory of Allah, as hundreds of thousands of pilgrims assembled in the tent city on Saturday.
A large number of them opted to walk the distance of about 7 km from Makkah under shaded walkways.
Mina has more than 1,500 fire-resistance tents in addition to some permanent structures.
"It's an indescribable feeling. You have to live it to understand," said Hassan Mohammed, 60, from Egypt.
"People come from every country of the world, talk every language of the world, and meet here in one place under one banner, the profession of the Muslim faith," said Ashraf Zalat, 43, also from Egypt.
Early Sunday morning, pilgrims will proceed to Arafat where more than 200,000 tents have been erected for their stay from dawn to dusk.
From Arafat, the guests of Allah will proceed to Muzdalifa where they will do the Maghreb and Isha prayers together and rest at night.
In Muzdalifa, they will collect pebbles to stone the Satan in Mina to which they will come back early Monday to complete their Haj rituals including slaughtering sacrificial animals, shaving their hairs, getting out of the state of ihram and going to Makkah for Tawaf Al-Ifadah which is an important pillar of Haj rites.
"Everything is well organized," said Nasser Benfitah, 54, from Morocco.
"We feel safe," said Nigerian pilgrim Hafsa Amina, 26.
Interior Ministry spokesman Maj. Gen. Masour Al-Turki said there were 11 plans to organize the movement of pedestrians and manage the masses during the ascent to Arafat which is about 9 km from Makkah.
Speaking at a press conference in Mina on Friday, Al-Turki said about 25 percent of pilgrims will go to Arafat directly from their accommodations in Makkah.
Col. Sami Al-Shuwairikh, director of awareness and media in the General Security, said 237,583 undocumented pilgrims, including more than 9,700 Saudi men and women, were turned back and prevented from entering Makkah or the Holy Sites.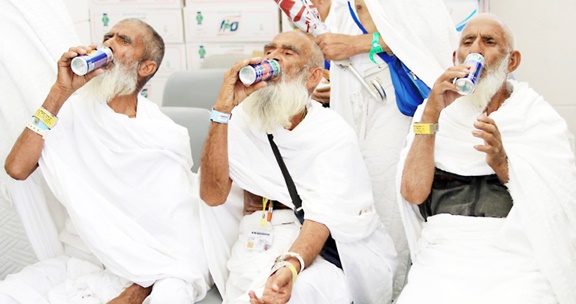 He said 104,784 cars, carrying people without Haj permits, were also turned back.
The Saudi Red Crescent Authority has prepared 377 ambulances and 11 aircraft to provide pilgrims with quick rescue services in times of emergency.
A spokesman of the authority said the response time to emergency calls will be maximum seven minutes.
Civil Defense spokesman Col. Abdullah Al-Orabi said 24 cooking gas cylinders were confiscated at pilgrims' tents in Mina.
According to the Civil Defense safety rules, liquid cooking gas should not be used in the tents in Mina and Arafat.
Spokesman of the Health Ministry Mishaal Al-Rubaian, said no cases of the Middle East Respiratory Syndrome Coronavirus (MERS-CoV) were reported among pilgrims.
He said 230 hospital rooms were prepared to be used as quarantine facilities.
Meanwhile, 27 well-equipped ambulances arrived in Arafat on Friday evening carrying sick pilgrims who were confined to hospitals in Madinah. They were received with roses, flowers and Zamzam water by a number of health officials.
The Authority to Develop Makkah region, which is responsible for operating the Mashair train, said 17 trains are ready to transport about 311,000 domestic pilgrims and those from GCC countries, Turkey and South Asia. The trains will be operated by 27 Saudi men who have been trained in Spain.
The train is 300 meters long with 12 cars which have 60 automatic doors. Each train can transport 72,000 pilgrims an hour.
The tickets are sold at SR250 for use of the train during the entire Haj days. — With agencies

(Source: SaudiGazette.com.sa)