Mother of Suspect in Maid's Death Denies Son's Involvement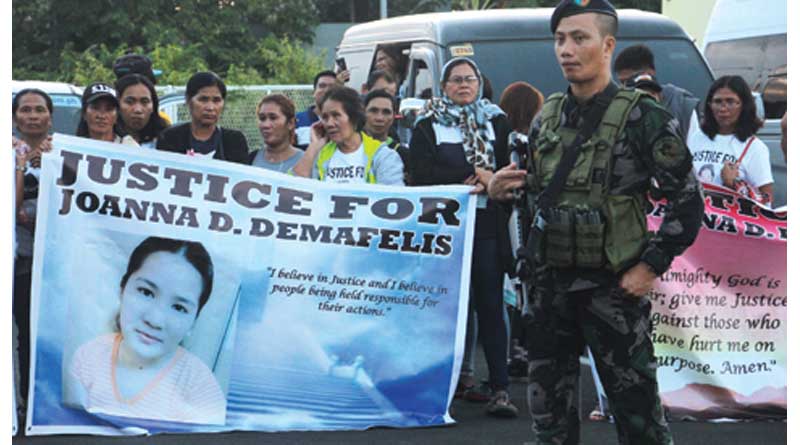 'His wife used to bang the maid's head against the wall'
MANILA: Relatives of Filipina worker Joanna Demafelis, whose body was found inside a freezer in Kuwait, hold banners as they wait for the arrival of Joanna's body from Manila at Iloilo International Airport in Iloilo province, central Philippines, on February 17, 2018. —AFP
KUWAIT: The family of a Lebanese man in whose apartment the body of a Filipina was found is in shock, claiming: "It is impossible for our son to commit such a crime." The body of Joanna Daniela Demafelis arrived in the Philippines on Friday after it was found in a freezer in the apartment rented by the Lebanese man named Nader and his Syrian wife Mona.
Amid rumors that Interpol has arrested the couple, thought to be in Syria, Al-Rai daily located the family of 40-year-old Nader, who hails from Budai and was raised in Ouzae in southern Beirut. He left his apartment in Kuwait along with his wife 16 months ago. After a court ruling was issued in favor of the owner, police discovered the body of the Filipina maid, who Nader reported absconding two days before he left the country. Murder charges were filed at Maidan Hawally police station after detectives discovered the woman was tortured and suffocated.
Nader's mother was surprised when she was asked whether she knew her only son was arrested. "I don't know…did they really arrest him? My son cannot even kill an ant, and for sure his wife put him into trouble," she said. "How can I save him from this dilemma? Nader is a quiet and reasonable man, unlike his wife, who I realized was cruel and badly treated the maid when I visited them in Kuwait," she added. "His wife used to bang the maid's head against the wall. I asked her to return the maid to the office if she did not like her, but she did not pay any heed. I left Kuwait because I couldn't stand the lack of mercy in her," Nader's mother claimed.
Philippines television network GMA spoke to a Filipina who said Joanna was kept hungry, physically assaulted and not paid. Nader's mother said she saw her son 10 months ago, adding he was a "lost man." "I didn't know anything about him, until I learned he was in Syria. I went there with a youth who contacted Mona's brother, who denied knowing anything about Nader. I felt he was abducted by them. The youth that was with me said, 'If you are not in touch with Nader, then give me the number of your sister.' I was then told Nader does not want to see his mother. When we insisted, he gave us a number, and we in turn gave it to the police, who called Nader, and he came," his mother said. She said Nader was in a very bad state. "I did not know why… he told me something major had happened but couldn't tell me about it," she said, adding that on top of that, his wife was pregnant.
(Source: KuwaitTimes.net)