Story of Filipino Drag Queen-Care Givers in Israel Goes Onstage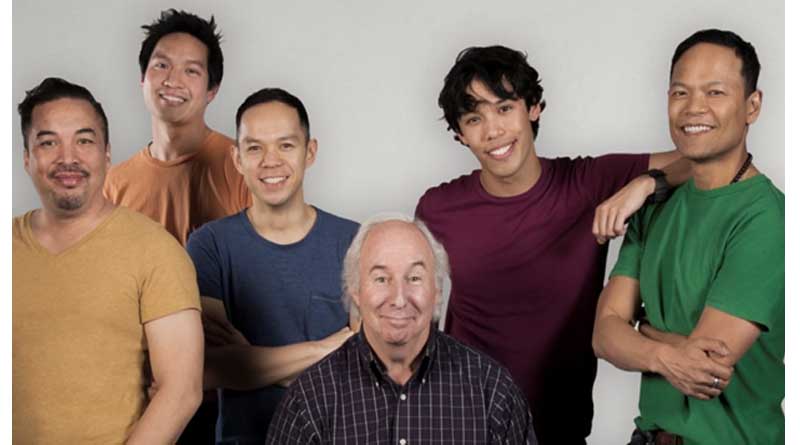 Image Caption: From left: Evan D'Angeles, Kevin Shen, Jon Norman Schneider, with castmate Chris Bloch, Rafael Sebastian, and Ariel Felix. CONTRIBUTED
By: Walter Ang– @inquirerdotnet
WASHINGTON, D.C. — A group of Filipino men work in Israel as live-in caregivers for elderly Orthodox Jewish men. They also moonlight as performers in a drag show—singing Hebrew, Yiddish, and English pop tunes.
That's the cast of characters of a new play (with music), "Paper Dolls," which will be shown at the Atlas Performing Arts Center, in this city.
Based on real individuals who were featured in a 2006 Israeli documentary of the same title, the play highlights the many challenges that immigrant workers go through.
Filipino Americans involved in the production include actors Evan D'Angeles (who will play Zhan), Ariel Felix (Sally), Rafael Sebastian (Cheska) and Jon Norman Schneider (Jiorgio), as well as choreographer Jeff Michael Rebudal.
To be staged by Mosaic Theater Company of DC, the production will be part of the 2018 Voices from a Changing Middle East Festival.
Director is Mark Brokaw, who recently helmed Rogers and Hammerstein's "Cinderella" on Broadway.
Cast
Evan D'Angeles has performed on Broadway ("Miss Saigon" and "Pacific Overtures"), in national tours ("Rent," "Cats," and "The 25th Annual Spelling Bee"), and regional theaters ("Hunchback of Notre Dame" and others).
Ariel Felix was in the first national tour of "Miss Saigon." Other credits include "The Caucasian Chalk Circle" for Attic Theatre & Film Center and "F.O.B." for East West Players. Felix also recently worked in an episode of television show "Chicago Fire." A film he wrote and acted in, "The Others," has been winning awards and making the rounds of the film festival circuit.
Based in Washington, DC, Rafael Sebastian's recent credits include "A Midsummer Night's Dream" and "Romeo and Juliet" for Chesapeake Shakespeare Company, "Journey to the West" for Constellation Theatre Company, and "A Bid to Save the World" for Source Theatre Company.
Reprise
This is the play's American premiere. Written by Philip Himberg, "Paper Dolls" had its world premiere in London in 2013 by Tricycle Theatre.
Jon Norman Schneider reprises his role from the London staging, playing Jiorgio.
"Very rarely does an actor get to revisit a role he's already done once in production," he says. "So this feels like an exciting opportunity to engage with the material more deeply."
"Philip, the playwright, has done a lot of work refining the script and story since the London premiere, so in many ways, this version feels like its own, discrete endeavor."
Real Jiorgio
Several of the documentary subjects who relocated to London were able to watch the staging there. (Salvador "Sally" Camatoy, one of the caregivers featured in the documentary, was found dead in the United Arab Emirates in 2007.)
Schneider had the opportunity to meet Giorgio Diokno—the real "Jiorgio."
"Mercifully, no one told us beforehand that some of the Dolls would be in attendance that night," Schneider says.
"It was quite a surreal, humbling moment the first time we all met after a preview performance. They were very gracious and said many complimentary things."
New American plays
Born in Quezon City, Schneider moved to the US with his family when he was three years old. He grew up in the Bronx and studied drama at New York University's Tisch School of the Arts.
His has acted in regional theaters and in Off-Broadway productions. Recent credits include "Awake and Sing!" for National Asian American Theatre Company (acting opposite the company's founding artistic director, Filipino American Mia Katigbak) and "City Of" for Peter Jay Sharp Theater.
Schneider hopes that theatergoers who catch "Paper Dolls" will not only be entertained by the story of these "outsiders" but also moved.
"Despite being far from 'home,' they are able to carve out space for themselves in unexpected ways, through their particular expression of creativity, performing in drag," he says.
He adds that any chance to diversify the theatrical landscape is exciting to him "on a personal level, as an actor of color."
"These characters' stories are not ones you see often on American stages. It's absolutely true that representation matters in art.
"I believe the more we expand our curiosities about different types of people and their stories, the richer and more relevant the ongoing legacy of new American plays becomes."
"Paper Dolls" runs Mar. 29-Apr. 22 at Lang Theatre, Atlas Performing Arts Center, 1333 H St. NE, Washington, DC. Visit Mosaictheater.org.
(Source: Inquirer.net)